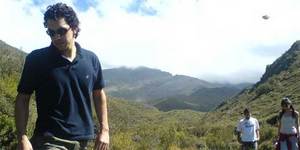 ©Unknown
Gaston Damia appears in the foreground, left. The unidentified object is in the upper right hand corner.
A group of friends spent the day at Quebrada del Condor. A day later, when they looked at one of the photos they'd taken on the computer monitor, they realized that a strange object was present in the sky. They claim that the photo, taken with a cellphone, is not a hoax!
Gaston Damia and Patricio Pereyra are facing the hard task of convincing everyone that the photo is real, that it is not a product of trickery, that they have no intentions of profiting from it and were never aware of what appeared there until they noticed it on the computer screen. Yet there it was, out of focus and in the distance: an unidentified flying object (UFO).
The event occurred on April 6, 2008 at Quebrada del Condor in Tupungato, when a group of friends chose that location to spend the day. "We had wanted to go there for a long time, but just to see it.
©Unknown
Close-up of UFO
We never imagined this nor ever heard of anything like it," said Patricio, who despite having been the one who pressed the cellphone key to take the photo, is somewhat skeptical about the existence of flying saucers and alien civilizations. In any event, he is still at a loss to explain how the object got into the photo.
Gaston is more enthusiastic. He acknowledges that since he saw the photo, he has read as much ufological material as possible and has also received e-mails from people interested in hearing more of his experience.
However, they told us that they didn't have an inkling until the saw the photo on their computer monitor. "I took several at that site, it was a sequence. And the fact is that we hadn't seen anything at all. The next day we got together to see the photos taken by a friend who went there with us, and that's when we saw it."
When he first saw it, Gaston thought that the UFO had been placed there by Patricio using Photoshop. And he didn't believe what he was seeing until his friend also swore that he was surprised by the whole thing.
"I was told that there are may cases of "phantom UFOs" -- one doesn't see them at the site, but they subsequently appear in photos," he explained.
The group of friends included Facundo Olguin, Brenda Canizo and Bibiana Sanchez. All of them are currently receiving comments regarding the photo, as tends to occur in such cases.
Most suspect its a trick, particularly because they believe that Patricio and Gaston have a masterful command of image editing software by virtue of being systems engineering students.
"The photo is right here. And if anyone wants to research it, no problem. It's available, because I'm not interested in making money on this either," said a defiant Patricio.