Bentonville, Arkansas - Benton County officials hadn't tallied all the damage from March flooding when the new storms moved through Thursday.
"Each time this happens, the roads get more damage and bridges are undermined," said Mike Dixon, county Department of Emergency Management deputy director.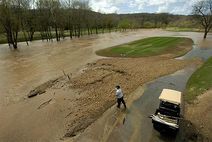 ©Marc F. Henning/ The Morning News
Bella Vista Property Owners Association employee Allen Dalton throws debris off of a cart path Thursday near the No. 7 tee box at Berksdale Golf Course in Bella Vista along the flood-swollen Sugar Creek. Most of Bella Vista's golf courses along U.S. 71 were flooded by runoff from overnight storms.
Flooding and tornadoes from a February storm caused $1.4 million in damage to county roads, Dixon said.
More than 30 county roads closed early Thursday, but officials expected them to reopen quickly as water recedes, a news release said. The county had 86 men checking and repairing roads Thursday, said Donna Frank, Benton County Road Department operations coordinator.
State and federal officials have also been assessing damage from recent storms.
About 19 people applied for disaster assistance after the March flooding. Those who suffered flood damage Thursday are eligible for assistance, so the number of applications should rise, Dixon said.
The worst local flooding Thursday was in northwestern and northeastern Benton County, officials said.
Water covered golf courses along Arkansas 71 in Bella Vista on Thursday morning. All of the courses closed Thursday, said Property Owners Association General Manager Tommy Bailey and some will stay closed longer.
Those most affected by flooding were Kingswood, Berksdale, Country Club and possibly Scotsdale courses.
"I'm sure it's going to be some fairly significant damage," Bailey said.
The courses are saturated after a month of rain and are not absorbing water.
"That's why we've got such a mess," he said.
In Washington County, the West Fork of the White River was receding Thursday evening after cresting at 27 feet. It normally runs at 4 feet, according to the U.S. Geological Survey's stream monitoring gauges.
"It's going to take a long time for the water to flush out of the system. It's going to take several days before it resembles anything normal," said John Luther, director of emergency management for Washington County.
Some areas were still recovering from flooding last month that resulted in a disaster declaration for the county. The body of a West Fork man washed away after trying to cross a low-water bridge in last month's storm was not found for more than two weeks. No injuries were reported in the latest round of storms.
Thursday's problems started near the headwater of the river in southern Washington County, well before daylight.
"We had to evacuate several people from houses down in the Woolsey area," said Mitch McCorkle, West Fork fire chief. "Most people were able to wade out with just a little assist, but it would have been easier if they hadn't waited so long to try to get out."
The department also sent manpower to the Brentwood and Whitehouse communities to assist with evacuation efforts in the predawn hours, McCorkle said.
A few miles downriver, Greenland police officer Clay Wagnon also was up before dawn. Rising water was running across U.S. 71 on the south side of town, and Wagnon was needed to help direct traffic.
"I got the call a little before six, and it was already covered up," Wagnon said. "The chief called me, so who knows what time he got out here this morning."
The water pulled back slightly by 9 a.m., allowing a crew to unblock storm sewer pipes and clearing part of the road, said Chief Gary Ricker.
By the time school started, the swollen river had diverted, delayed or canceled school bus routes in the West Fork, Greenland and Elkins school districts.
Along Wyman Road east of Fayetteville, Herb Evans returned for a second look at the river about 9 a.m., parking his pickup just west of the bridge and walking over muddy, rolling water less than five feet below.
"I came out here about seven, and the water was coming over the bridge," he said, kicking at pebbles left on the pavement. "It's really boiling along."
The bridge remained closed because the road just to the east remained under several feet of running water.
About the same time, Glee Shoffit of Elkins was watching muddy river water seeping through her hardwood floor.
"The whole thing was weird," she said as her son and daughter helped her mop up Thursday afternoon. "I really didn't think it was going to come up into my house."
The water sloshed around inside for about an hour and half, climbing about 4 inches on the walls before receding and leaving a thin layer of mud behind.
Shoffit's son Clayton, who lives with his mother in the house on Arkansas 16 about 100 yards from the river's normal channel, said he knew the water was going to get into the house so he piled his possessions on his bed to keep them dry.
Carl Shoffit, also Glee Shoffit's son, who lives behind Glee in a house just yards from the river bank, saw his converted garage flooded, but the main house stayed dry. All the Shoffits waded out in thigh-deep water to their vehicles and left to wait for the river to go down. Carl and Katie Shoffit went to work.
"We couldn't do anything. If it's going to flood, it's going to flood," Katie Shoffit said.
In Goshen, an ornate brick home on the west end of Polo Country Estates emerged out of the swollen river like an island fortress Thursday afternoon.
A strip of raised concrete that was once part of a driveway was all that connected the house to the mainland. Orange handlebars from a child's tricycle poked out of the brown and muddy river water like a buoy.
Three feet of sandbags at the front doorway and along the back of the house helped stem the rising tide.
"We're evacuating right now. We really don't have time to talk," said a woman inside the residence at 595 Polo Drive before quickly closing the door. The woman would not identify herself.
"I feel bad for them. This water came up real fast. I don't know what happened," said Holly Barnes, who was pushing cattle in the lot adjacent to the subdivision.
This is the second time in as many months that area flooded, she said.
When heavy rain struck in March, the floods also came, but water didn't seem to rise as fast, she said.
Problems weren't confined to the White River basin.
In Johnson, police closed Main Drive from 5:30 a.m. to noon Thursday because of high water, according to Randy Birchfield, street superintendent.
Johnson's water woes along Main Drive should ease shortly, Birchfield said.
The road will be closed beginning at 8:30 a.m. Monday to install 20 large culverts on Main Drive to help alleviate flooding problems.
"We're sorry for the inconvenience," Birchfield said. "But we've seen what can happen during the last two rain storms."
During the last heavy rain, Johnson emergency officials had to evacuate 11 clients from the assisted living center in the city because of rising water. That didn't happen Thursday, he said.
"We pretty well took care of the nursing home," Birchfield said Thursday. "We cut some new drainage back behind it."
In Prairie Grove, the Illinois River rose far enough out of its banks to prompt motorists along U.S. 62 to take snapshots and video. Still, the river has been higher, and conditions were worse in the last flood three weeks ago, said Larry Oelrich, director of public works for the city.
In Lincoln, high winds and power outages were the main concern. School was canceled when the power went out about 5:30 a.m. Electricity was restored about 7:30 a.m., according to Tracey Irwin, Lincoln's court clerk.
"They (school officials) weren't sure when the power was going to be restored," Irwin said.
The wind created problems with fallen trees, Irwin said.
High water remains dangerous, even if the sun is out, said Luther, the county emergency manager.
"I'm begging people not to cross flooded roads and bridges. The simple rule is "Turn around, don't drown,'" he said. "People need to respect the power this amount of water can pack."
- - -
The Morning News' Don Dailey, Bob Caudle, Rose Ann Pearce, Christopher Spencer, Richard Dean Prudenti, Anna Fry, Scarlet Sims and Melissa Sherman contributed to this report.