As our changeable weather continues, a Kent town escaped a trail of destruction according to a group of workmen who think they snapped an incoming tornado.
Council grass cutting supervisor David Hartley and his team were taking their lunch break in South Willesborough, near Ashford when they spotted the twister advancing in a narrow path over the rooftops.
Or did they - is it a tornado or just a strange cloud formation? Let us know at kentonlinenews@thekmgroup.co.uk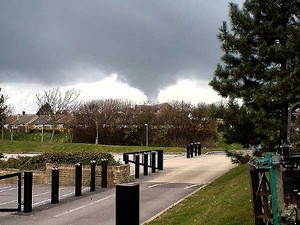 ©David Hartley
Twister and shout: It's definitely a dramatic skyline, but is it a tornado or just a bizarre cloud pattern?
Mr Hartley, 26, from Singleton, who took this photograph, said: "It went very black and all five of us watched as the funnel dipped up and down for about 30 seconds before it disappeared.
"It was a quite frightening experience but it appeared that it did not actually hit the ground so no damage was caused."
The incident happened at noon on Wednesday, March 26.
Have you taken any pictures of crazy weather? Send them to us at editor.kentonline@thekmgroup.co.uk