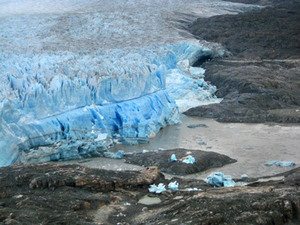 ©AP/ Centro de Estudios Cientificos
Melting ice in southern Chile caused a glacial lake to swell and then empty suddenly, sending a "tsunami" rolling through a river, a scientist said Thursday.
No one was injured in the remote region.
Glacier scientist Gino Casassa said the melting of the Colonia glacier, which he blamed on global warming, filled the Cachet Lake (above) and increased pressure on the ice sheet.
The water bored a five-mile (eight-kilometer) tunnel through the glacier and finally emptied into the Baker River on April 6.
"The remarkable thing is that the mass of water moved against the current of the river," Casassa told the Associated Press by telephone from the Center for Scientific Studies in the southern city of Valdivia. "It was a real river tsunami."
The lake was nearly full again by late Wednesday, he said.
Casassa said temperatures were unusually high during the recent Southern Hemisphere summer.
"This is a phenomenon that occurs periodically during the summer season, caused by the melting of large masses of ice that swell some lakes," he said. "The basic cause is global warming."
(See a
photo of another lake that vanished in Chile in 2007
.)
The Tempano lake in Chile's Bernardo O'Higgins National Park abruptly disappeared last year, and has since recovered just some of its former volume.
- Associated Press in Santiago, Chile