A band of hail, heavy rain and twisters pounded Arkansas, Texas and Oklahoma Thursday, damaging hundreds of homes, flooding roads and leaving thousands without power.
Arkansas already was contending with three weeks of flooding and the aftermath of 10 tornadoes that struck last week when the latest storm hit.
"It's just getting worse," sheriff's dispatcher Nola Massey said. "We're just trying to get everybody to stay home and not get out in it."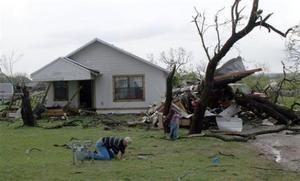 ©Tony Pilkington
Jeremy Dickey of Breckenridge, Texas, tries to turn off the water to his house after it was struck by an apparent tornado Wednesday evening, April 9, 2008. Dickey wasn't home at the time, but his wife, Tina, and two children, ages 4 years and 8 months, hid in an interior closet he had reinforced as a shelter. They were not injured, but the house was moved 10 feet off of its foundation. Breckenridge police said they have reports of a few minor injuries, but didn't have a full count. Power lines were down and at least five homes were destroyed, police said.
About 1,000 customers of Entergy Arkansas lost power and tornado sirens blared around midday in parts of central Arkansas, including Little Rock. Flooding also was reported in southwest Missouri as storms crossed the region.
Flights at the Little Rock airport were stopped for nearly an hour while people, including some sitting on planes, were moved to safer areas.
The severe weather began in the region Wednesday. An apparent tornado with winds of up to 70 mph moved through west Texas, tearing shingles from roofs, shattering glass and flipping vehicles. Roughly 100 homes reported damage, mainly in Breckenridge, DeSoto and Hurst.
Near Lillian, Texas, the storm critically injured a gas worker, who lost part of his arm, an official said.
Bobby Russell, a 45-year-old maintenance man, said he was huddled with wife and two teenage children in their duplex when a falling tree punched a hole in the roof and collapsed a wall of his daughter's bedroom.
"We got the family together in the hallway, and then we heard a big boom," Russell, of Hurst, said.
In far east-central Oklahoma, Muldrow was particularly hard hit, with state officials reporting damage to more than 200 homes and businesses from straight-line winds. The city was pounded with heavy rains, marble-sized hail and sustained winds of more than 60 mph, said Officer Jose Flores.
"We've got flooding like you wouldn't believe," Flores said.
At least 180,000 homes and businesses lost electricity in the Dallas-Fort Worth area, and more than 11,000 customers were without power in Oklahoma Thursday morning. Flooding in Oklahoma forced about a dozen state highways to close, and some schools called off classes for the day.
In Oklahoma, where some parts of the state had more than 4 inches of rain, two rain-related traffic deaths were reported. Three people were treated for minor injuries in Texas.
Red Cross spokeswoman Anita Foster said no injuries were reported from the high winds and heavy rain in the Dallas-Fort Worth areas. Two shelters were set up for residents who may need them, she said.
One hangar at Addison Airport, in the Dallas area, lost part of its roof.
The storm pelted the city with quarter-sized hail just after midnight with winds of up to 70 mph, said Hector Guerrero, a meteorologist with the National Weather Service. The service received reports of cars and a tractor trailer flipped over.
In DeSoto, just south of Dallas, about a dozen homes had roof damage and there was severe roof damage at a senior apartment complex and at a hotel with about 50 people in it at the time, said Kathy Jones, a spokeswoman for the city of DeSoto.
Stephens County Sheriff James Reeves said about 20 homes in the Breckenridge area sustained major damage, including some roofs and top stories torn away.
Six mobile homes were destroyed and two businesses were damaged, Reeves said.
In Arkansas' Saline County, residents spent a week picking up blown-off shingles and cleaning culverts after the 10 tornadoes roared through central Arkansas the night of April 3. Forecasters said Thursday's storm could be on scale with those last week, with up to 2 inches of rain possible in Saline County, and gusts up to 30 mph.
The Federal Emergency Management Agency estimates at least 47 homes were destroyed by last week's tornadoes in Saline County. More could be affected as rainwater hits already saturated fields and lawns Thursday.
"It's just overwhelming -- a flood on top of a tornado," Saline County Judge Lanny Fite, the county's top administrator, said Wednesday. "People have been working night and day trying to prepare, but there's not a whole lot we can do to prepare for rain in the magnitude they're talking about."