A western lowland gorilla was born Saturday about 3:30 a.m. (PST) at Woodland Park Zoo. The newborn represents the twelfth successful gorilla birth for the zoo and the third offspring between 37-year-old Amanda and the father, 28-year-old Vip. The infant is a female.
And her name is...Uzumma!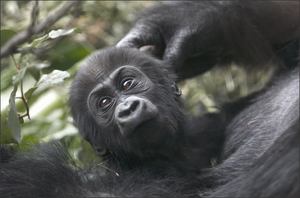 ©Seattle Post-Intelligencer
Uzumma, a 5-month-old female western lowland gorilla, relaxes on her mother's chest after the announcement of her new name at the Woodland Park Zoo Friday, April 4, 2008
The baby gorilla now has a name, thanks to 3-1/2-year-old Rhys Olson of Seattle (o.k., he had a bit of help from his dad, Rick!). Uzumma is an Igbo-langugage word that means "bearer of joy to the family". Rhys wins a year-long membership to the zoo, a $150 Ivar's gift card, a gorilla "adoption" through our ZooParent program, a large plush gorilla toy and a framed print of the baby and her handprint.
According to gorilla keeper staff, Amanda is showing excellent maternal care. "She's holding the infant close and keeping her warm, fed and clean, all expected behaviors of a healthy mother gorilla," said General Curator Dr. Nancy Hawkes. "And the infant is gripping her mother firmly, nursing and vocalizing, all signs of being healthy. There is a very strong maternal-infant bond." All the gorillas in the group are very interested in the newborn, especially Amanda and Vip's other two daughters, 9-year-old Ngozi and 5-year-old Calaya.
The gorilla birth is significant for the Gorilla Species Survival Plan (SSP) because Amanda is a "founder" animal, meaning she was born in the wild, and Vip has only two other relatives outside of Woodland Park Zoo. These combined factors make the baby gorilla's genes particularly valuable to the zoo population in North America.
The group's access outside into their exhibit and visitor viewing of mother and baby will be dependent on outdoor temperatures.
The Gorilla Species Survival Plan (SSP) is among 33 SSPs that Woodland Park Zoo participates in, including the Asian elephant, Aruba Island rattlesnake, red-crowned crane and orangutan. Under the auspices of the Association of Zoos & Aquariums (AZA), the cooperative breeding programs work to ensure genetic diversity and demographic stability in North American zoos and aquariums. Additionally, SSPs involve a variety of other collaborative conservation activities such as research, public education, reintroduction and field projects. AZA is a nonprofit organization dedicated to the advancement of zoos and aquariums in the areas of conservation, education, science, and recreation, with more than 210 zoos and aquariums as members.