Yellow River floodwaters inundated an entire town in northern China on Friday amid frantic efforts to repair breaches to embankments caused by unexpected high water levels, state media reported.
At least 10,000 residents of Duguitala in the Inner Mongolia region have been evacuated to a nearby desert area since water began pouring into the town on Wednesday, Xinhua news agency quoted a local official as saying.
Embankments began to crumble on Wednesday after soaking in high water, which state television blamed on rapid glacial melt in the Himalayas, the source of the river.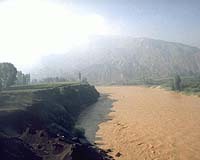 ©Unknown
Local flood-control officials said water levels were up to 50 percent higher than normal. About 170 flood response personnel were working to repair the damaged embankments, Xinhua said.
China's second-longest river and a waterway of huge symbolic and cultural importance, the Yellow River is also known as "China's sorrow" for its frequent disastrous flooding throughout history.
Scientists have warned recently that accelerating glacial melt on the Himalayan plateau due to global warming could lead to more catastrophic flooding along China's rivers.