Flash Flood Warnings Posted From Texas To Pennsylvania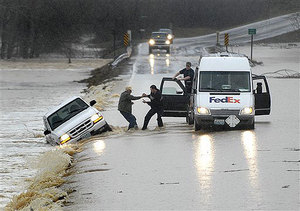 ©AP/Southeast Missourian, Eisenhauer
Fedex driver Jay McMullin helps 78-year-old Odell Bunch into the delivery truck after Bunch's Ford Ranger was swept off Highway 34 by flood waters on Tuesday, March 18, 2008, near Jackson, Mo.
Residents of low-lying towns stacked sandbags or grabbed belongings and evacuated Wednesday after a foot of rain pushed rivers and creeks out of their banks in the nation's midsection. At least 13 deaths had been linked to the weather, and three people were missing.
Record or near-record flood crests were forecast at several towns in Missouri. Flooding was reported in large areas of Arkansas and parts of southern Illinois, southern Indiana and southwestern Ohio, and schools were closed in parts of western Kentucky because of flooded roads.
"We've got water rising everywhere," said Jeff Korb, president of the Vanderbugh County, Ind., commissioners.
The weather played havoc with air travel, as more than 500 flights were cancelled today at the Dallas Fort Worth Airport, reports CBS News correspondent Hari Streenivasan. It wasn't even safe on the rails, as flood water under the tracks is the probable cause of a derailment near Vienna, Ill. Two crew members were injured.
The National Weather Service posted flood and flash flood warnings from Texas to Pennsylvania.
After two days, rain had finally stopped falling by Wednesday afternoon in much of Missouri and Arkansas as the weather system crawled toward the Northeast, drenching the Ohio Valley and spreading snow over parts of northern New England. A parallel band of locally heavy rain stretched from Alabama and Georgia to the mid-Atlantic states.
Atlanta police closed some downtown streets in case the stormy weather knocked down more broken and debris from buildings damaged by Friday's tornado.
In Ohio and other areas, the rain fell on ground already saturated from heavy snowfall less than two weeks ago.
A foot of rain had fallen in sections of southern Illinois and at Mountain Home, Ark., and Cape Girardeau, Mo., while 6.2 inches fell at Evansville, Ind., the weather service said.
Five deaths were linked to the flooding in Missouri, five people were killed in a highway wreck in heavy rain in Kentucky and a 65-year-old Ohio woman appeared to have drowned while checking on a sump pump in her home. In southern Illinois, two bodies were found hours after floodwaters swept a pickup truck off a rural road.
Searches were under way in Texas for a teenager washed down a drainage pipe, and two people were missing in Arkansas after their vehicles were swept away by rushing water.
Searchers in Missouri found the body of Mark G. Speir Jr., 19, on Wednesday about 2 miles downstream from where he was reported swept into a creek the previous evening.
"He was going down the creek screaming and hollering," Lawrence County emergency management chief Mike Rowe said.
An estimated 300 houses and businesses were flooded in Piedmont, a town of 2,000 residents on McKenzie Creek. Dozens of people were rescued by boat.
Outside St. Louis, the Meramec River was threatening towns including Eureka and Valley Park, where Chandra Webster's kids ran bags of toys and clothes to the car while she moved boxes of belongings to the second floor and her husband moved furniture out of harm's way.
"It's a lot of work, but it's worth it to save your stuff," Webster, 34, said Wednesday. "In '82 we lost everything when I was a little girl. I don't want to put my kids through that."
The Meramec hit a record 39.7 feet that year; flood stage is only 16 feet. A levee completed just three years ago is designed to hold a flood of 43 feet, three feet above the crest forecast for later this week.
Valley Park alderman Steve Drake helped fill sandbags.
"We've got everybody working together," Drake said. "It's going to be interesting."
Gov. Matt Blunt said he was seeking a federal disaster declaration for 70 of Missouri's 114 counties and the city of St. Louis.
Widespread flooding in Arkansas had washed out some highways and led to evacuations in some areas, said Tommy Jackson, a spokesman for the Arkansas Department of Emergency Management. The Highway and Transportation Department reported state roads blocked in 16 counties.
Some residents of southern Illinois had to evacuate. In Marion, firefighters in some cases used their own fishing boats to rescued 13 residents of the city's housing authority.
Key roads were closed in the Cincinnati area, where water 4 feet deep was reported in businesses in the suburb of Sharonville, police said.
Ohio rescue workers were busy helping people out of cars swamped by the flooding.
"The biggest problem has been people driving into floodwater," Young said. "There are a lot of stupid people. When that sign says 'Road closed, high water,' that's what it means."