Tens of thousands of basketball fans at two arenas were perfectly safe, officials insisted Saturday, even though the crowds apparently weren't warned about an approaching tornado - one that would ravage skyscrapers and injure dozens.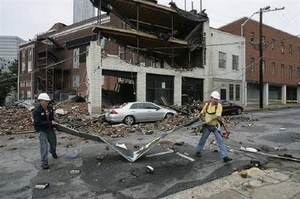 ©REUTERS/Tami Chappell
Debris are cleared away from a building in downtown Atlanta, Georgia March 15, 2008.
About 18,000 people were watching the Southeastern Conference men's tournament Friday night at the Georgia Dome when its fabric roof began rippling, the catwalks above the court started swaying and chunks of insulation rained onto the players.
The National Weather Service issued a tornado warning about eight minutes before the twister hit, but it wasn't clear when or if that alert was passed on to fans, said Katy Pando, a dome spokeswoman. Fans claimed they never heard or saw one.
Another 16,000 fans watching an NBA game at Philips Arena, in the same complex as the dome, weren't told of the weather, either. The arena apparently sustained little damage, Atlanta Hawks spokesman Arthur Triche said.
The tornado, with wind up to 130 mph, cut a 6-mile path through downtown Atlanta, smashing hundreds of windows in and around the CNN Center, blowing furniture and luggage out of hotel rooms and crumbling part of an apartment building. At least 27 people were hurt, though no injuries was believed to be life-threatening, and no injuries were reported at the arenas.
"I thought it was a tornado or a terrorist attack," said Mississippi State guard Ben Hansbrough, whose team beat Alabama 69-67 after an hourlong delay under a roof with at least two visible tears.
"Ironically, the guy behind me got a phone call saying there was a tornado warning," fan Lisa Lynn said. "And in two seconds, we heard the noise and things started to shake. It was creepy."
Elsewhere in Georgia on Saturday, storms killed one person in Polk County and another in Floyd County, both near the Alabama line, emergency management officials said.
Crews hauled broken glass and furniture out of streets in downtown Atlanta, where all events scheduled for Saturday were canceled, including the St. Patrick's Day parade.
Local and state officials were reluctant to weigh in on whether public venues and businesses are responsible for alerting patrons of imminent weather danger. Georgia Insurance and Safety Fire Commissioner John Oxendine said his office would look into whether people at the Georgia Dome got a timely tornado warning, though he considered the question premature.
Dome officials were monitoring the weather throughout the evening, Pando said.
Several calls to Philips Arena on Saturday were not immediately returned.
"There wasn't much time to tell anybody anything" before the storm hit, said Catherine Woodling, a spokeswoman for Mayor Shirley Franklin.
A warning from the weather service gave residents in nearby neighborhoods about eight minutes to seek cover. Guests at the Omni Hotel were quickly ushered into hallways, away from glass and flying furniture, and the only injuries were "some cuts and scrapes and no major issues as far as we know," hotel spokesman Mike Sullivan said.
"It was crazy. There was a lot of windows breaking and stuff falling," said Terrence Evans, a valet who was about to park a car at the hotel when the twister hit.
The 1,000-room hotel was fully booked, though many guests were out at the arenas when the storm hit.
More thunderstorms headed toward the city Saturday. "We're bracing for another round of whatever mother nature throws at us," said Lisa Janak of the state emergency management agency.
Oxendine estimated damage from Friday night's storm at $150 million to $200 million, most of it at the Georgia World Congress Center, a state convention facility near the CNN Center and the Georgia Dome.
CNN said its headquarters building suffered ceiling damage that allowed water to pour into the atrium, and windows were shattered in the CNN.com newsroom and the company's library.
A loft apartment building had severe damage to one corner and appeared to have major roof damage. Property manager Darlys Walker said there was one minor injury. A vacant building also collapsed, with no apparent injuries, Fire Capt. Bill May said.
Grady Memorial Hospital, the city's large public hospital where many of the injured were taken, had broken windows but was operating as usual.
Melody and Brad Sorrells were home in their living room with their two children when the storm hit, and the huge pine in their front yard crash into their east Atlanta house.
"I saw it falling and we ran into the back bedrooms in the closet," Melody Sorrels said. "I feel sick."
The tornado was the first on record in downtown Atlanta, said Vaughn Smith, another weather service meteorologist. The last tornado to strike inside the city was in 1975, and it hit the governor's mansion north of downtown, he said.