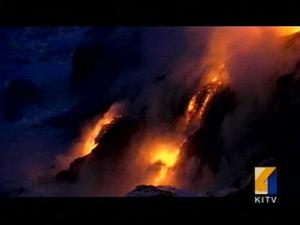 ©kitv.com
The latest flow from Kilauea Volcano reached the ocean overnight, according to scientists with the Hawaii Volcano Observatory.
A scientist flew over the flow with Hawaii County officials on Thursday morning.
Access to Kilauea's eruption was cut off Wednesday after the current lava flow crossed the last Big Island access road to the site.
After threatening for several days, lava crossed the access road at the end of Highway 130, cutting off a lava viewing site and forcing evacuations. The 2.6-mile road was built to the lava viewing site in 2001.
Big Island Civil Defense officials said the lava continues to make its way through the Royal Garden subdivision toward the ocean. The flow could reach the ocean as soon as this weekend, officials said.
"The speed at which she moved from the base to where she is now is much, much faster than anyone, I'm talking about the scientists, anticipated. We are where we thought we would be by maybe next week sometime at the earliest, and here we are," Mayor Harry Kim said.
Lava from the volcano eruption that began in 1983 destroyed four or five abandoned structures in Royal Gardens over the past two weeks.
Royal Garden resident Jack Thompson said he has watched lava slowly engulf the subdivision for the last 33 years he's lived there.
"I'm here for the duration and until whatever happens. When Madame Pele takes the house, I'll leave with my toothbrush," said Thompson.
However, the flow eventually forced Thompson to leave. He was one of the last two residents to flee the area.
The homes that were in danger were not destroyed on Thursday, officials said.
County and state highway personnel on Wednesday began work cutting a road to a new lava viewing site.
County officials said they know there are people sneaking into the site at night, but police and state park officials are out advising people the area is restricted.
"Otherwise it will be a 2.5- to 3-mile walk to the viewing area and what we're trying to do is obviously make it easier for spectators," Kim said.
Officials said they hope to have the new viewing site open by the weekend. It's predicted the lava could reach the ocean within the next few days.