The death toll from severe snow storms that have paralysed large parts of China this winter has reached 129, state media reported Sunday.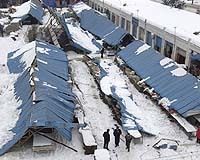 ©Unknown
In addition to the confirmed deaths, four are still listed as missing, while 1.7 million have been evacuated, the Beijing News tabloid said, citing Li Liguo, vice minister of civil affairs.
Previously, state media had reported 107 fatalities from the blizzards and icy temperatures that have struck more than a dozen Chinese provinces over the past two months and been seen as the worst in 50 years.
The Beijing News also quoted Li as saying 485,000 houses were damaged by the winter weather, while overall economic losses were estimated at 151.7 billion yuan (21 billion dollars).