UPDATE
A magnitude 6.3 earthquake struck near the town of Wells in northeastern Nevada at dawn on Thursday, shaking residents in their beds and causing some damage, the U.S. Geological Survey and residents reported.
"It lasted about 10-15 seconds," area resident Susan Shaw told Reuters by telephone. "I live about 20 miles from Wells and it shook the whole house. It was scary but there was no major damage."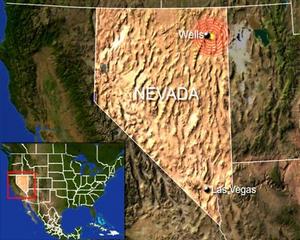 ©REUTERS/Graphics
A 6.0 magnitude earthquake struck Nevada on Thursday, the U.S. Geological Survey reported.
Shaw, who works at a hotel in Elko, around 45 miles (72.5 km) from Wells, said there were reports of a gas leak at a Wells gas station and that the sidewalks were cracked outside the hotel.
There were no immediate reports of damage in the nearest large city, Salt Lake City, Utah, although some residents were shaken by the morning quake, local radio said.
"I saw the window blinds and chandelier swaying," said Salt Lake City resident Dennis Lyman.
The quake, centered 11 miles southeast of Wells, Nevada, struck at 6:16 a.m. PST, with a shallow epicenter of 6.27 miles (10km) deep.
Wells, a town of about 1,300 people, is 382 miles north of the gambling center of Las Vegas and 180 miles (290 km) west of Salt Lake City.
(Reporting by James Nelson in Salt Lake City and Mary Milliken in Los Angeles, Editing by Sandra Maler)
---
USGS Report
Earthquake Details
Magnitude 6.3
Date-Time
* Thursday, February 21, 2008 at 14:16:05 UTC
* Thursday, February 21, 2008 at 06:16:05 AM at epicenter
Location 41.076°N, 114.771°W
Depth 10 km (6.2 miles) set by location program
Region NEVADA
Distances
* 17 km (11 miles) ESE (103°) from Wells, NV
* 32 km (20 miles) NNW (343°) from Spruce, NV
* 39 km (24 miles) S (183°) from Wilkins, NV
* 70 km (43 miles) WNW (303°) from West Wendover, NV
* 244 km (152 miles) W (279°) from Salt Lake City, UT
Location Uncertainty
horizontal +/- 3.6 km (2.2 miles); depth fixed by location program
Parameters
NST=143, Nph=143, Dmin=53.9 km, Rmss=1.45 sec, Gp= 22°, M-type=body magnitude (Mb), Version=7
Source
* USGS NEIC (WDCS-D)
Event ID us2008nsa9