Dozens of motorists who were trapped in blizzards in County Durham have been rescued.
Many are likely to spend the night in temporary accommodation.
At one point 150 cars carrying around 200 motorists were stranded in drifting snow along the A66 near the village of Bowes.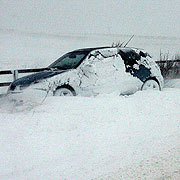 ©Unknown
A trapped car in County Durham
Heavy snow hit the north of the country on Friday afternoon, catching many motorists out.
Bob Baldwin of the Highways Agency, told Sky News up to half a metre of drifting snow had accumulated on parts of the road in a very short amount of time.
A rescue operation was launched by police and the Highways Agency.
Forty pensioners were led away from one stretch of the road.
Landlord Les Mitchell, who runs the Unicorn pub near Bowes, told Sky News he was braced to accommodate rescued motorists.
Adam Hearn, who is leading a mountain rescue team, said side roads were being searched for abandoned cars.
"If we had not reacted as quickly as we did things could have been much more difficult," he told Sky.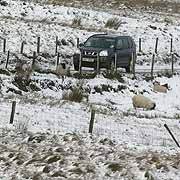 ©Unknown
Snow is expected to ease over the weekend
Around 30 lorry drivers remain on the A66.
Out at sea, the RAF has abandoned an attempt to rescue the crew of a cargo ship that were injured in high seas off the Scilly Isles.
And engineers are working to restore electricity to more than 6,000 addresses in the north of England.
Blizzards battered Scotland and the north through Friday with the snow expected to spread as far south as Essex overnight.
Anyone worried about relatives can call the Durham Police Advice Line on 0191 386 0098.