DENVER - A powerful storm system raced across the nation Tuesday, spawning everything from heavy snow and numbing cold to thunderstorms and possible tornadoes, and forecasters warned more bad weather was on the way.
High winds associated with thunderstorms may have killed two people in Indiana, authorities said. Snow forced the closure of schools and highways in many areas, and avalanche warnings were issued for some Western regions.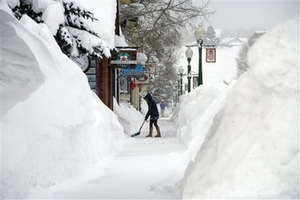 ©(AP Photo/Nathan Bilow)
Chelsea Yerdon from Crested Butte, Colo. shovels the front of the working establishments sidewalk wondering where to put the snow when the banks of the sidewalks are already eight feet high in Crested Butte, Colo. on Tuesday, Jan. 29, 2008.
Two of three snowmobilers lost in the mountains west of Denver were found late Tuesday and flown to a hospital in Glenwood Springs, said Summit County sheriff's spokeswoman Paulette Horr. The third was still missing.
Authorities had received phone text messages earlier in the day from at least two snowmobilers and believed they were closing in on them. The three man had failed to return Sunday from a planned one-day trip.
Search efforts were delayed by bad weather and avalanche danger, Horr said.
About 3 feet of snow has fallen in the area since Sunday morning, said Kyle Fredin of the National Weather Service. Snow began to taper off Tuesday, but up to a foot more was expected before the weekend, Fredin said.
The system also dragged bitterly cold air across the northern Plains, with the Weather Service reporting a midday temperature of minus 24 at Glasgow, Mont. North Dakota registered wind chill factors of minus 54 at Garrison, with an actual low of minus 24 at Williston.
"Now's when you need to have your winter survival kit," North Dakota Highway Patrol Sgt. Aaron Hummel said.
Heavy snow Monday pummeled mountain areas from Washington state to northern Arizona as two storms converged, one from hard-hit California and another from the Gulf of Alaska, meteorologists said.
"It's very unusual," said Doug Abromeit, director of the U.S. Forest Service's National Avalanche Center in Ketchum, Idaho. "Typically the storm is not this widespread."
Those storms were followed Tuesday by a third that threatened up to 20 inches of snow in Idaho's mountains into Wednesday, said Jay Breidenbach of the Weather Service office in Boise.
A fourth storm was on the way. "By Thursday, the next storm will be right on our doorstep. This is quite a storm system," Breidenbach said.
Snow collapsed the roofs of several businesses Monday in northern Idaho, while avalanches forced the evacuation of dozens of homes. There were no injuries.
The cold air and wind gusts as high as 70 mph headed into the Midwest, where fog created problems for air travel Tuesday in Chicago. About 200 flights had been canceled by afternoon at O'Hare International Airport, said Chicago Department of Aviation spokesman Karen Pride.
Temperatures were expected to drop from Tuesday highs in the 40s to about zero overnight. In anticipation, some central Illinois schools canceled Wednesday classes.
Firefighters in southwestern Indiana pulled two bodies from a mobile home near Evansville that had been turned on its side by winds in a thunderstorm, WEHT-TV reported.
Residents near Danville, west of Indianapolis, reported funnel clouds, and damage was reported to a home and the Morgan County Courthouse in Martinsville.
The National Weather Service reported an unconfirmed tornado touchdown near Okawville, Ill. A corner of the roof peeled off at Nashville Community High School in Illinois, but no injuries were reported.
In Cape Girardeau County, Mo., winds as high as 70 mph and dime-size hail were reported Tuesday. Two unconfirmed funnel clouds were reported, said Dick Knaup, the county's emergency management director.
In the snow farther west, Interstate 90, Washington's main east-west artery, was closed at Snoqualmie Pass on Tuesday because of avalanche danger. Snow also closed highways in Minnesota, Colorado and Wyoming.
In Oregon, two snowmobilers were rescued Monday after spending two nights in the Wallowa Mountains after getting trapped by storms. Authorities said the two were well clothed and equipped, with survival gear, matches and an avalanche beacon.
The threat of flooding as heavy snow melted brought an emergency declaration on the Navajo reservation sprawling across parts of Arizona, Utah and New Mexico.
Contributing to this report were Associated Press writers P. Solomon Banda in Denver; Sophia Tareen and Michael Tarm in Chicago; Keith Ridler in Boise, Idaho; and Arthur H. Rotstein in Tucson, Ariz.