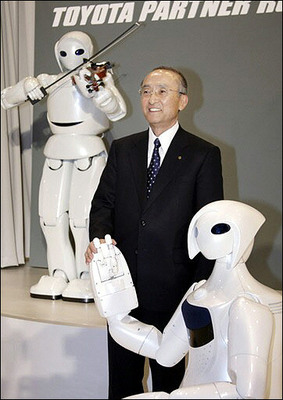 ©Unknown
Toyota Motor on Thursday unveiled a robot that can play the violin as part of its efforts to develop futuristic machines capable of assisting humans in Japan's greying society.
The 1.5-metre-tall (five-foot), two-legged robot wowed onlookers with a faultless rendition of Elgar's
Pomp and Circumstance
.
With 17 joints in its hands and arms, the robot has human-like dexterity that could be applied to helping people in the home or in nursing and medical care, the carmaker said.
Toyota also unveiled a two-wheeled, single-seat "mobility robot" that could be used to transport an elderly or disabled person over uneven ground and around obstacles.
Toyota, which already uses industrial robots extensively in its car plants, said it aims to put robots capable of assisting humans into use by the early 2010s.
"We began to use industrial robots in our factories in the 1980s that have been perfected over time to be capable of working on several car models or carrying out different tasks," said Toyota Motor Corp. chief executive Katsuaki Watanabe.
"Now we want to accelerate the development of robots that make a contribution to society, drawing on our knowledge and innovation in the field of automobiles," he told a press conference.
The new robots come three years after Toyota unveiled a trumpet-playing robot -- its first humanoid machine -- in a bid to catch up with robot technology frontrunners such as Honda Motor Co. and Sony Corp.
Makers of robots see big potential for their use in Japan, where the number of elderly people is rapidly growing, causing labour shortages in a country that strictly controls immigration.
Japanese are famed for their longevity of life, with more than 30,000 people aged at least 100 years old, a trend attributed to a healthy cuisine and active lifestyle.
But the ability to live longer is also presenting a headache as the country has one of the lowest birthrates.
Japan's most famous robot is arguably Asimo, an astronaut-looking humanoid developed by Honda which has been hired out as an office servant and has even popped up to offer toasts at Japanese diplomatic functions.
Toyota meanwhile said it believed it was vital to team up with partners in industry, government and academia to develop robots to assist humans.
It aims to start trials putting some, including the mobility robot, into practical use in the second half of next year.
Further work is also planned to improve the hand and arm flexibility of the violin-playing robot so it can use general purpose tools.
Carmakers are also looking to use robot technology to develop more sophisticated cars.
"Technologies used to enrich the abilities of robots can also be used to improve the functionality of automobiles," said Watanabe.