Colombia's capital, Bogota, was hit by a freakish hailstorm on the weekend that rendered vehicles immobile. Cars were trapped under a cover of hail that reached up to 1.5 metres in height in some areas.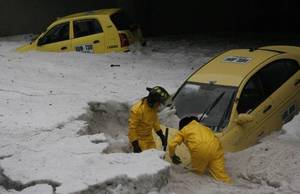 ©El Tiempo
In one hour, 70 litres of hail had fallen per cubic metre in the Andean city trapping some individuals in their cars in freezing temperatures. Colombia has been troubled by a series of natural disasters so far this year, mainly in the form of flooding, which has caused the deaths of 94 people. The country's Institute of Environmental Studies has warned that the hostile weather system known as "La Niña" could continue to trouble Colombia until January.
Meanwhile, President Alvaro Uribe faces his own challenges in relation to the country's armed conflict. Another two members of his ruling coalition--Senator Luis Humberto Gomez and deputy Gonzalo Garcia--were called to give evidence to the Supreme Court over the paramilitary-politico scandal. Efforts towards a rapprochement with the leftist Revolutionary Armed Forces of Colombia (FARC) rebels continued with Venezuelan President Hugo Chavez due to meet French counterpart Nicolas Sarkozy on 20 November to discuss efforts to secure the release of 45 civilian and military hostages. Another FARC rebel, named as Jorge Rodriguez Mendieta, was extradited to face trial in the United States two days ago.
Significance:After Saturday's storm, incoming mayor to the capital Samuel Moreno, who hails from the leftist Alternative Democratic Pole (PDA), will be under increased pressure to improve Bogota's transport system and overall operational environment. Bogota's infrastructure is inadequate to deal with such hostile conditions. The storm that hammered Bogota on Saturday (3 November) was the worst that the city has seen for 30 years. What appears to be snow on television footage was actually a mass of hail, which has greater potential to damage infrastructure and cause injury.