US astronaut Peggy Whitson has been given an unusual gift a day before she is due to blast off to take charge of the International Space Station.
She was presented with a "kamcha" - a traditional Kazakh riding whip.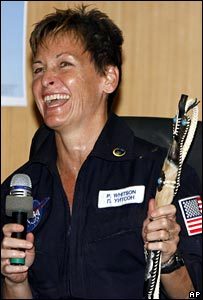 ©AP
Ms Whitson joked that she hoped not to have to use the whip
A Russian official at the Baikonur cosmodrome in Kazakhstan, Sergei Semchenko, said the gift was to help her keep her male crew in line.
The 47-year-old biochemist will be the first woman to command the ISS. It will be her second trip there.
Ms Whitson laughingly accepted the whip saying she hoped she would not have to use it but would take it just in case.
She is scheduled to take off from Baikonur on Wednesday with Russian Yuri Malenchenko and Malaysia's first astronaut, Sheikh Muszaphar Shukor.