To their high society owners, a pair of haute couture shoes can be a precious thing.
But to guard a 62,000 pound (120,000 dollar) pair of ruby- sapphire- and diamond-encrusted Rene Caovilla sandals at their London launch, retailer Harrods went to extreme lengths: bringing in a live Egyptian cobra to patrol the shoe counter.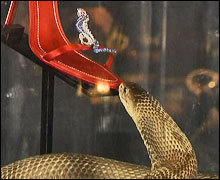 A cobra guards a pair of Rene Caovilla shoes at Harrods department store.
Whether hiring a poisonous snake is, strictly speaking, the most effective means of guarding precious footwear might be a moot point with security experts.
But it makes for a pretty effective photo opportunity.
A spokeswoman for Harrods admitted that the cobra had been hired strictly for Monday's launch of the shoe collection.
"The snake has now been returned to its owner," she said.
So no need to fear snake bites at the shoe counter, then.
"Not unless you're a burglar," the spokeswoman said.