The owner of a fledgling dog-training academy in Salisbury has come up with a bizarre money-raising scheme.
Mary Stadelbacher figured that if she could teach dogs to become service animals for the disabled, why couldn't she teach them to hold a paintbrush and swab a piece of art?
Two years later, the owner of Shore Service Dogs has a collection of abstract paintings created by her three service dogs in training. Twenty of the works are being shown this month at a gallery at Salisbury University.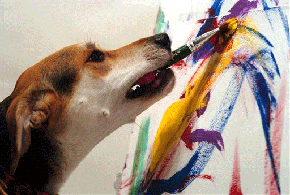 ©Matthew S. Gunby
The doggie DaVincis also have a line of greeting cards that has sold out as word spreads about the unusual works of art. One of the original works has sold for 350 dollars.