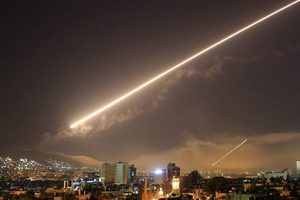 Syrian air defense systems protecting Damascus - the oldest continuously-inhabited city on Earth - from Western airstrikes, 14 April 2018
If you look for truth, you may find comfort in the end; if you look for comfort you will not get either comfort or truth only soft soap and wishful thinking to begin, and in the end, despair.
- C. S. Lewis
Recent Comments
Not as kosher as Trump, though.
---
Our crystal technology is called electronics, wireless, etc.
---
THE ORGANIC SCAM, BY THE WANNABES I think that anyone who is caught participating in the organic food scam should be arrested and put to work on a...
---
I still think the so called decontamination is one big theatrical show to exercise the boys and girls, and distract the discourse.
---
I live on the east coast of the US, North Carolina to be more exact, and I cant help but think about whats going to happen when the rest of the...