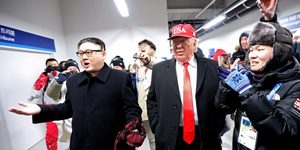 Did The Donald and Rocket Man secretly meet at the Winter Olympics in PyeongChang?
"In keeping silent about evil, in burying it so deep within us that no sign of it appears on the surface, we are implanting it, and it will rise up a thousand fold in the future. When we neither punish nor reproach evildoers, we are not simply protecting their trivial old age, we are thereby ripping the foundations of justice from beneath new generations."
- Aleksandr I. Solzhenitsyn
Recent Comments
Ace 4D sheep dog manoeuvre. Cut the flock off from the wide open skies.
---
Hmm.. Bibi had bad time i think. Syrians downing the F-16I, corruption charges at home, hezbullah threatening to blast the oil fields, if Israel...
---
Message from a reader about this article: Got to Hell - or better, end up in prison. Your choice. Name: Donald Duck E-mail:...
---
" 'Syrian territorial integrity' is suddenly all the rage from both the Turks and the Kurds. " I suspect that BOTH the Turks and the Kurds are...
---
The winter issue of Kivunim, a "A Journal for Judaism and Zionism," publishes "A Strategy for Israel in the Nineteen Eighties" by Oded Yinon. The...