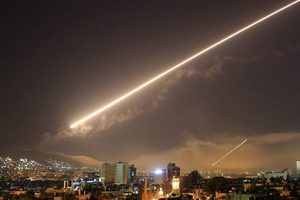 Syrian air defense systems protecting Damascus - the oldest continuously-inhabited city on Earth - from Western airstrikes, 14 April 2018
In the Truth there is no news, and in the News there is no truth
- Popular Russian saying under Soviet Communism
Recent Comments
bad state to get busted for pot they say
---
Well, somebody is not getting their B12....
---
Of course it is not funny...but that is exactly what is going on. Why? Who knows...one guess would be a big distraction for the public, to keep...
---
Kudos to Moon of Alabama. I've never read that work by Orwell, although I know he fought in the Spanish Civil War against the Nazi backed...
---
Judges and prosecutors delay court dates until inmates have some time already accumulated. Then these prosecutors finally come to the defendant...