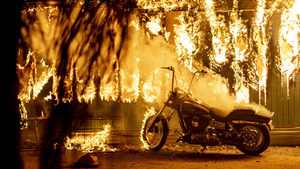 The Woolsey Fire in Malibu, California, November 10, 2018
For the great enemy of the truth is very often not the lie - deliberate, contrived and dishonest - but the myth - persistent, persuasive, and unrealistic. Too often we hold fast to the clichés of our forebears. We subject all facts to a prefabricated set of interpretations. We enjoy the comfort of opinion without the discomfort of thought.
- John Fitzgerald Kennedy
Recent Comments
Gene drives need to be policed, and honestly I'm surprised that they aren't covered under already existing laws (in my opinion they are, in...
---
Avenge the bees. Take their iPhones off them.
---
Many autistic people feel they are on the wrong planet, even when quite elderly, and that means they had the same sense of alienation when they...
---
Consent? And you know what? I just don't consent to the way that society is using me....and there ain't a thing I can do about that.....
---
Consent to work? You oughta see my mare when she sees cattle - let me go to it boss, she says, with the utmost enthusiasm. I've had three working...