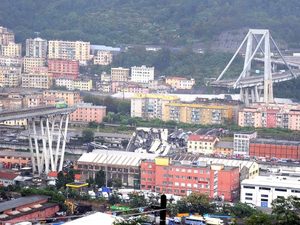 14 August 2018: Morandi Bridge in Genoa, Italy, collapses during a storm, killing 35 people
Shared pain is lessened; shared joy, increased - thus do we refute entropy.
- Spider Robinson
Recent Comments
That's what ya get when ya send your 'boys in blue' to finishing school in that small walled country in the Middle East .
---
Surely if the Roman Catholic Church were serious about clerical celibacy then priests who didn't abide by it would be automatically de-frocked....
---
Sorry to say, but this really is fake news. I am living in the Netherlands for 60 years now and never was the social tension so small as in these...
---
No surprise that money should be the number one cause of conflict when the success of our entire civilisation is predicated on extracting as much...
---
I'm sure that there is a more going on there than just a simple radar station. Isn't there always a whole bunch of other things going on in the...