Comment:
The following article was published in the Johns Hopkins University newsletter on November 22nd. It has since
been taken down
, so we're archiving it on Sott.net.
This university has been 'Covid-19 central' for data collection and analysis for all countries globally from the get-go. After 10 months of global panic, its experts have confirmed that there is, in their own words, "
no evidence that COVID-19 created any excess deaths"
in 2020.
In short, this has all been for nothing.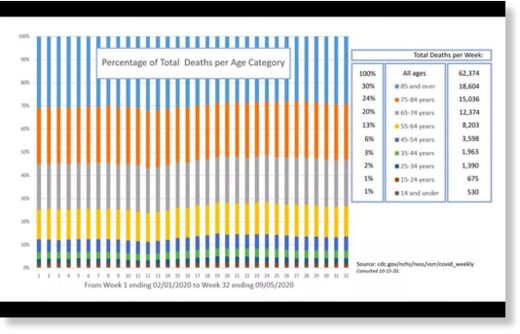 According to
new data
, the U.S. currently ranks first in total COVID-19 cases, new cases per day and deaths. Genevieve Briand, assistant program director of the Applied Economics master's degree program at Hopkins, critically analyzed the effect of COVID-19 on U.S. deaths using data from the Centers for Disease Control and Prevention (CDC) in her webinar titled "COVID-19 Deaths: A Look at U.S. Data."
From mid-March to mid-September, U.S. total deaths have reached 1.7 million, of which 200,000, or 12% of total deaths, are COVID-19-related. Instead of looking directly at COVID-19 deaths, Briand focused on total deaths per age group and per cause of death in the U.S. and used this information to shed light on the effects of COVID-19.
She explained that the significance of COVID-19 on U.S. deaths can be fully understood only through comparison to the number of total deaths in the United States.
After retrieving data on the CDC website, Briand compiled a graph representing percentages of total deaths per age category from early February to early September, which includes the period from before COVID-19 was detected in the U.S. to after infection rates soared.
Surprisingly, the deaths of older people stayed the same before and after COVID-19...