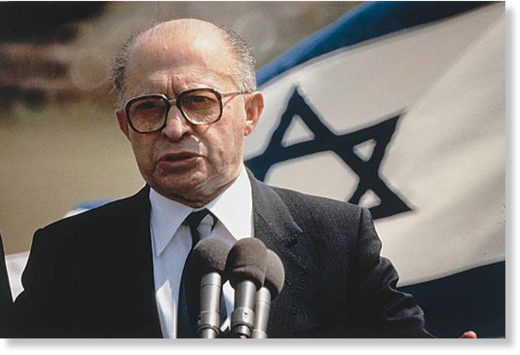 Menachem Begin: The Nobel Laureate who bragged about being the Father of Terrorism in the World
It seems that terrorism and political violence have become more prevalent and intense. Not a single day goes by without at least one story about grotesque violence mostly perpetrated against innocent civilians. Somehow, terrorism became a normal part of our everyday life, but this was not always the case.
More worryingly, the absence of debate about the root causes of terrorism have given way to casual media reporting which most likely encourages further terrorism by feeding it the oxygen of publicity.
"How does it feel, in the light of all that's going on, to be the father of terrorism in the Middle East?" "In the Middle East?" he [Begin] bellowed, in his thick, cartoon accent. "In all the world!" - Russell Warren Howe interview with Menachem Begin, January 1974

Most of us today, associate terrorism with Muslim fanatics that have ever morphing acronyms such as ISIS, ISIL, Al-Qaeda and so forth. A few decades ago, it was either Palestinian individuals or Iranian fanatics and before that very few people remember the IRA, Red Brigade or the many other European groups who too were described in the very same media as evil Terrorist, and only a tiny minority even have an inkling of other cases of terrorism, let alone the definition, history or roots of this scourge of society.