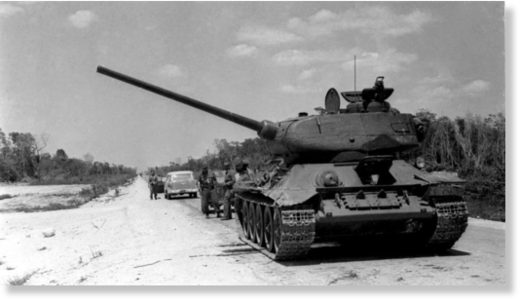 The looming end of the Castro era in Cuba coincides this week with the 57th anniversary of the Bay of Pigs invasion - a failed attack by the CIA that greatly catalyzed the Castro approach to resisting American encroachment.
On Thursday, Raul Castro, the 86-year-old brother of the late Fidel, will step down as the president of Cuba. For the first time in almost 60 years, the island will not be led by a Castro, although the man who is widely assumed to take the post next, First Vice President Miguel Diaz-Canel, has vowed to stay on the path of Fidel's revolution.
Two days prior to this, however, the island marks the day when, in 1961, Fidel and his forces beat back an assault which, it was then hoped in Washington, could unseat the leader and nip Cuba's communist dream in the bud.
The Bay of Pigs invasion (or the invasion of Playa Giron, as it is known in Cuba) was a staple of American regime-change tactics. Orchestrated, prepared, planned, bankrolled, and combat-supported by the CIA
, it was fronted by defectors from Castro's Cuban revolution who had earlier fled to the US. Warplanes were painted in Cuban Air Force colors, ships were procured from a Cuban-owned company, and political asylum was granted to combatants - all for the sake of "plausible deniability." It was hoped that a small force of returning exiles would sound a wake-up call for Cubans to rise up and topple Castro.