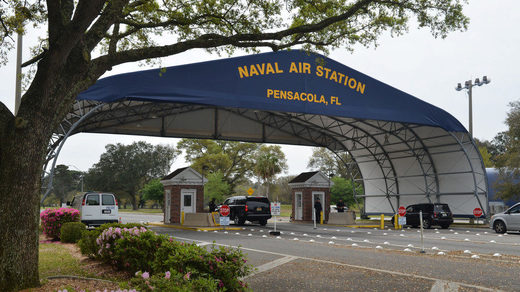 Four people are dead including the suspect after an
active shooting incident
at a
naval base
in Pensacola, Florida, police said.
The shooter was identified as Mohammed Alshamrani, a Saudi national and
member of the country's air force who was in the U.S. for flight training
, law enforcement officials familiar with the investigation told ABC News. Investigators are trying to determine whether the shooting was terror-related, the officials said.
Authorities responded to
reports of a shooting
at Naval Air Station Pensacola at 6:51 a.m. on Friday, officials said.
ATF and FBI also responded
to the scene.
The shooting took place at one of the
classroom buildings on the base
, officials said. Officers with the Escambia County Sheriff's Office arrived on the scene and fatally shot the suspect after exchanging gunfire.
Three people, including the shooter, were pronounced dead on scene, police said. One victim was taken to the hospital and died from injuries.
Eight others injured
in the shooting were transported to Baptist Hospital, police said. The condition of those victims has not been released.