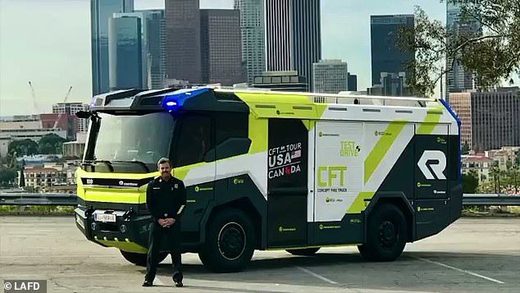 The Los Angeles Fire Department is set to become the first fire department in North America to purchase an electric fire engine.
Developed by the Austrian firm Rosenbauer, the rig will be custom made to fit LAFD's needs, as well as safety standards set by the National Fire Protection Association.
The electric fire truck will have two batteries with a charge capacity of 100 kilowatt-hours, which is two hours of consistent operation.
The Department
expects to take delivery of the new engine in early 2021 and will likely assign it to Fire Station 82 in Hollywood
.

Comment: Hollywood, of course...


Los Angeles Fire Department (LAFD) Chief Ralph Terrazas (pictured) said in a statement: 'I am excited that we are the first Department in North America to order this cutting-edge fire engine.'