Mark your calendar. On Sunday, May 20th, the sun is going to turn into a ring of fire. It's an annular solar eclipse--the first one in the USA in almost 18 years.
An annular eclipse occurs when the Moon passes directly in front of the sun, but the lunar disk is not quite wide enough to cover the entire star. At maximum, the Moon forms a "black hole" in the center of the sun.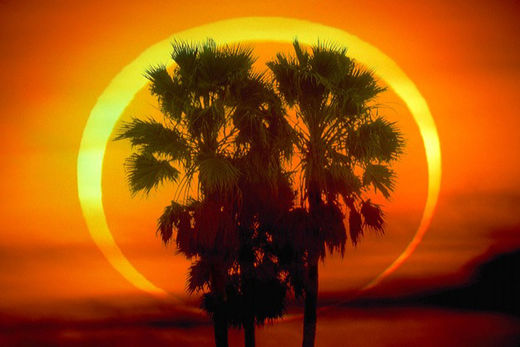 The "path of annularity" is a strip about 300 km wide and thousands of km long. It stretches from China and Japan, across the Pacific Ocean, to the middle of North America. In the United States, the afternoon sun will become a luminous ring in places such as Medford, Oregon; Chico, California; Reno, Nevada; St. George, Utah; Albuquerque, New Mexico, and Lubbock, Texas.
Outside of this relatively narrow zone, the eclipse will be partial. Observers almost everywhere west of the Mississippi will see a crescent-shaped sun as the Moon passes by off-center.
"I like to compare different types of eclipses on a scale of 1 to 10 as visual spectacles," says NASA's leading eclipse expert, Fred Espenak of the Goddard Space Flight Center. "If a partial eclipse is a 5 then an annular eclipse is a 9."