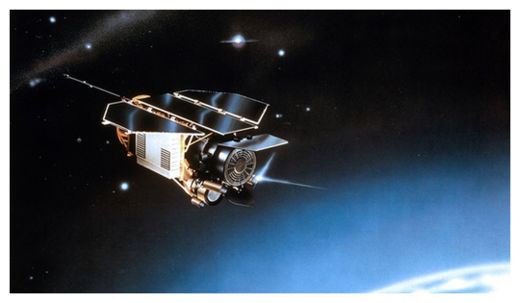 A defunct German satellite is expected to plunge to Earth this week, but exactly when and where the satellite will fall remains a mystery.
The massive
German Roentgen Satellite,
or ROSAT, is expected to plummet to Earth on Saturday or Sunday (Oct. 22 or 23), though German space officials have also offered a wider re-entry window of between Oct. 21 and Oct. 25. This latest falling satellite comes about a month after a dead NASA climate satellite, called the Upper Atmosphere Research Satellite (UARS), plunged into the Pacific Ocean in late September.
The 2.4-metric ton X-ray space observatory is expected to break up as it travels through Earth's atmosphere, but some large pieces will likely make it through the intense heat of re-entry. According to German aerospace officials, approximately
1.7 metric tons of satellite debris,
consisting primarily of up to 30 large glass and ceramic fragments, could survive the journey through the atmosphere and reach the Earth's surface.
"We don't expect big parts to re-enter, except the mirror and the glass and ceramic parts," Jan Woerner, head of the executive board of the Deutsches Zentrum für Luft- und Raumfahrt (DLR), Germany's space agency, told SPACE.com. "Usually during re-entry, you have rather clear burning of all the elements, but glass and ceramics may survive and may come down in bigger pieces."