Washington, March 3: The 460 feet (140 meter) wide space rock, asteroid which is called 2011 AG5 could collide with Earth in 2040.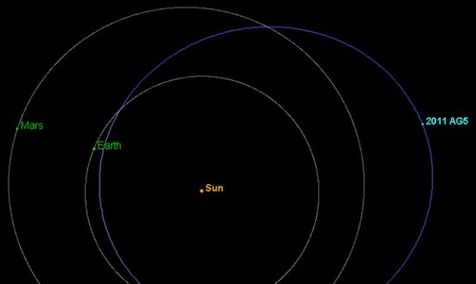 Talk about the asteroid was on the agenda during the 49th session of the Scientific and Technical Subcommittee of the United Nations Committee on the Peaceful Uses of Outer Space (COPUOS), held earlier in Vienna.
Due to its current location in the daytime sky, observations of 2011 AG5 cannot be made by Earth-based telescopes, so its orbit has not yet been determined to a level where scientists can confidently project its location decades into the future. But that day is coming.
"In September 2013, we have the opportunity to make additional observations of 2011 AG5 when it comes within 91 million miles (147 million kilometers) of Earth," said Don Yeomans, manager of NASA's Near-Earth Object Program Office at the Jet Propulsion Laboratory in Pasadena, California.