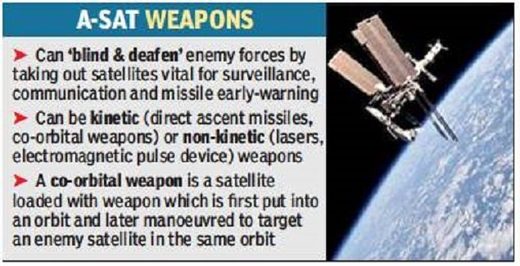 After successfully testing an anti-satellite (ASat) missile last month, India is now also working to develop other counterspace capabilities like directed energy weapons (DEWs) and co-orbital killers as well as the ability to protect its own satellites from electronic or physical attacks.
"We are working on a number of technologies like DEWs, lasers, electromagnetic pulse (EMP) and co-orbital weapons etc.
I can't divulge the details, but we are taking them forward," said DRDO chief G Satheesh Reddy on Saturday. The A-Sat missile that destroyed the Microsat-R satellite, at an altitude of 283-km in the low-earth orbit (LEO) on March 27, was a "directascent, kinetic kill" weapon. It's "feasible" to target multiple satellites with multiple launches of the three-stage interceptor missile, which can go up to 1,000 km into space," said the DRDO chief.
A coorbital weapon, in turn, is basically a satellite equipped with some explosive, weapon or DEW device, which is first put into orbit and then later manoeuvred to target the enemy satellite. Apart from these kinetic kill weapons, other ASAT weapons like lasers jammers, EMP and high-powered microwaves are being rapidly developed by China, which first tested an A-Sat missile against a LEO weather satellite in January 2007.