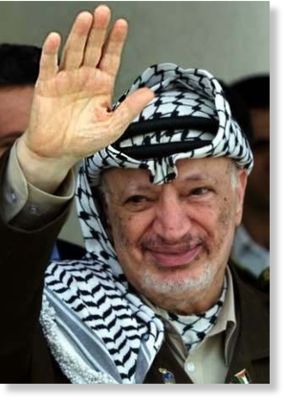 Most Palestinians, whether they supported their late leader Yasser Arafat or not, were in agreement that he did not die of natural causes. They believed he was murdered by Israel or its agents.
But are Palestinians justified in blaming Israel for his death?
French doctors treating Arafat did not issue a conclusive report identifying the cause of his illness. The French public medical report pointed to the destruction of red blood cells as a reason for his death, but did not identify the cause of the red cell failure.
According to an Al Jazeera report, tests by scientists at the Institute of Radiation Physics in Lausanne, Switzerland, suggested that traces found on Arafat's stained underwear and other personal belongings pointed to an "unexplained, elevated amount of unsupported polonium-210", which could explain his red cell abnormality.
The Swiss lab is the same medical institute that uncovered traces of the radioactive isotope polonium-210 on former KGB agent
Alexander Litvinenko's belongings
.
The Russian dissident died in 2006 following a meeting with Russian officials after ingesting tea laced with the substance.
After scanning Arafat's belongings, lab officials found an "unexplained level of polonium", concluding the possibility that he died of "poisoning".
Israel is the only nation in the region with a proven capability to produce polonium-210.