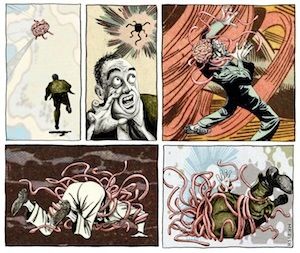 The rewriting of history by the power elite was painfully evident as the nation marked the 10th anniversary of the start of the Iraq War. Some claimed they had opposed the war when they had not. Others among "Bush's useful idiots" argued that they had merely acted in good faith on the information available; if they had known then what they know now, they assured us, they would have acted differently. This, of course, is false. The war boosters, especially the "liberal hawks" - who included Hillary Clinton, Chuck Schumer, Al Franken and John Kerry, along with academics, writers and journalists such as
Bill Keller
,
Michael Ignatieff
,
Nicholas Kristof
, David Remnick,
Fareed Zakaria
,
Michael Walzer
,
Paul Berman
,
Thomas Friedman
,
George Packer
,
Anne-Marie Slaughter
,
Kanan Makiya
and the late
Christopher Hitchens
- did what they always have done: engage in acts of self-preservation. To oppose the war would have been a career killer. And they knew it.
These apologists, however, acted not only as cheerleaders for war; in most cases they ridiculed and attempted to discredit anyone who questioned the call to invade Iraq. Kristof, in
The New York Times
,
attacked the filmmaker
Michael Moore as a conspiracy theorist and wrote that anti-war voices were only polarizing what he termed "the political cesspool." Hitchens said that those who opposed the attack on Iraq "do not think that Saddam Hussein is a bad guy at all." He called the typical anti-war protester a "blithering ex-flower child or ranting neo-Stalinist." The halfhearted mea culpas by many of these courtiers a decade later always fail to mention the most pernicious and fundamental role they played in the buildup to the war - shutting down public debate.