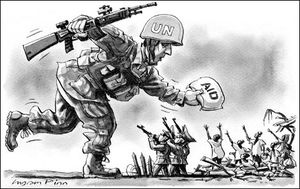 In a traditional cowboy movie, we know what to do: we look for the guy wearing the white hat to be sure who to cheer, and for the one wearing the black hat to know who deserves to die, preferably gruesomely, before the credits roll. If Hollywood learnt early to play on these most tribal of emotions, do we doubt that Washington's political script-writers are any less sophisticated?
Since 9/11, the United States and its allies in Europe have persuaded us that they are waging a series of "white hat" wars against "black hat" regimes in the Middle East. Each has been sold to us misleadingly as a "humanitarian intervention". The cycle of such wars is still far from complete.
But over the course of the past decade, the presentation of these wars has necessarily changed. As Hollywood well understands, audiences quickly tire of the same contrived plot. Invention, creativity and ever greater complexity are needed to sustain our emotional engagement.
Declarations by Israeli prime minister Binyamin Netanyahu aside, there are only so many times we can be convinced that there is a new Hitler in the Middle East, and that the moment is rapidly approaching when this evil mastermind will succeed in developing a doomsday weapon designed to wipe out Israel, the US, or maybe the planet.