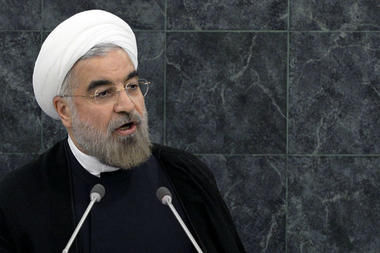 He came. He listened. And he surfed.
"I listened carefully to the statement made by President Obama today at the General Assembly... [I'm] hoping that they will refrain from following the short-sighted interests of warmongering pressure groups and we can arrive at a framework to managing our differences."
Then he outlined what has always been the official Iranian position: "Talks can happen; equal footing and mutual respect should govern the talks."
Then he addressed the expectation (actually, the world's): "Of course, we expect to hear a consistent voice from Washington. The dominant voice in recent years has been for a military option."
But now he had another idea. So he sets the stage for the punch line: It's WAVE time. WAVE as in World Against Violence and Extremism. Not in Farsi, lost in translation; in English.
"I propose as a starting step... I invite all states... to undertake a new effort to guide the world in this direction ... we should start thinking about a coalition for peace all across the globe instead of the ineffective coalitions for war."
So the President of the Islamic Republic of Iran, Hassan Rouhani, has just invited the whole planet to join the WAVE. How come no "coalition of the willing" leader ever thought about that?