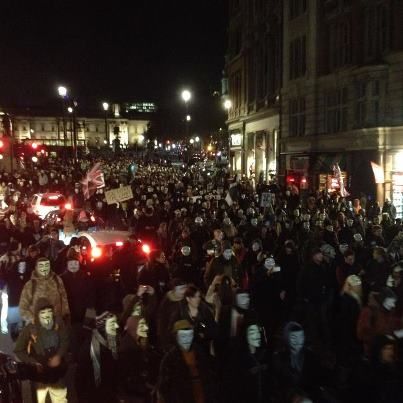 A worldwide day of protests and cyber attacks against governments, banks and security firms has been launched by Hacker collective Anonymous to mark Guy Fawkes Day. Hundreds of people marched in London, while another rally hit Washington, DC.
Around 200 Anonymous supporters, according to RT's London Bureau, assembled in London's Trafalgar Square for Operation Vendetta, a march to the Houses of Parliament. The group itself claims over 9,000 people joined the action.
The demonstrators were carrying banners reading, "We are Anonymous. We are the legion" or "Stop creating imaginary debt!" At the Houses of Parliament they were stopped by police.
Minor scuffles broke out outside parliament as a few protestors attempted to push police lines back, but the bulk of OpVendetta remained peaceful.