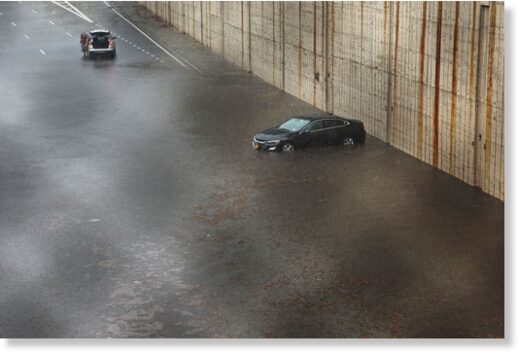 Wild scenes of flooding unfolded throughout New York City Friday morning as an intense rainstorm barreled through the tri-state area, turning local roads into rivers during the morning rush hour.
Videos showed cars plowing through knee-deep water in Brooklyn's Sunset Park neighborhood, with a whirlpool seen swirling in the middle of the waterlogged road.
Cellphone footage taken aboard an MTA bus at 18th Avenue and 60th Street in Brooklyn's Bensonhurst neighborhood showed floodwaters gushing into the vehicle filled with passengers, among them children, who tried to stay dry by lifting their feet off the floor.
The Big Apple's major roads fared no better, as the Brooklyn- Queens Expressway, the Belt Parkway and Prospect Park Expressway all turning into rivers teeming with partially flooded cars trapped in bumper-to-bumper traffic.
Read more
here
.