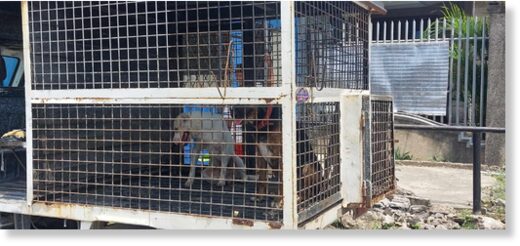 Police are investigating the death of a 63-year-old man who was found dead in a makeshift toilet inside a compound in Barangay Mohon, Talisay City, Cebu on Thursday morning, September 28.
Lawmen said relatives of George Mayol suspect that he was attacked by the five dogs that he was taking care of inside the family-owned compound.
Police said the victim had injuries in his feet, face, and back when he was found lifeless past 7 a.m.
Police Lt. Col. Wayne Magbanua of the Talisay City Police Station said they have asked the victim's family to have the body be autopsied to determine the cause of death.
The victim's brother said George was also hospitalized last July after he was attacked by the dogs.
Some of the dogs are "aspin" (asong Pilipino or native dogs) while some are mixed aspin and doberman.
Personnel of the Talisay Veterinary Office rushed to the area after learning that the dogs were suspected to have attacked their owner.
Because of the spacious area, it took time before they were able to catch the five dogs.
The dogs were later brought to the city's impounding facility.