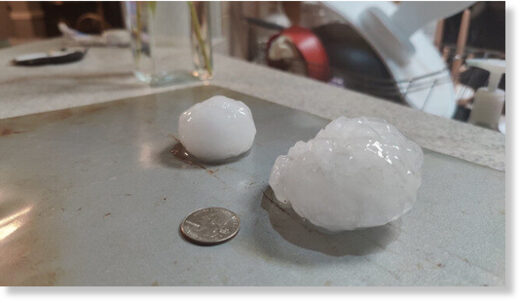 A severe thunderstorm with embedded baseball sized hail slammed parts of Central Texas Sunday night causing major damage.
The hardest hit areas appear to be in Williamson County -- with several reports of windshields being destroyed in Georgetown and Round Rock.
Round Rock Police tell CBS Austin there is significant property damage and isolated power outages in the city.
State Representative Caroline Harris posted on X, formerly Twitter, heavy hail damage to vehicles at Round Rock Kia on I-35.
CBS Austin meteorologist Avery Tomasco also reported 2.5 inch hail in North Austin... and the storm dropped significant hail along I-35 in both the Hancock and Mueller area as it moved toward Downtown Austin.
The weather delayed the Austin FC game at Q2 Stadium for several hours as the storm moved through. Fans were told to shelter in place while heavy rain and hail fell on the pitch.