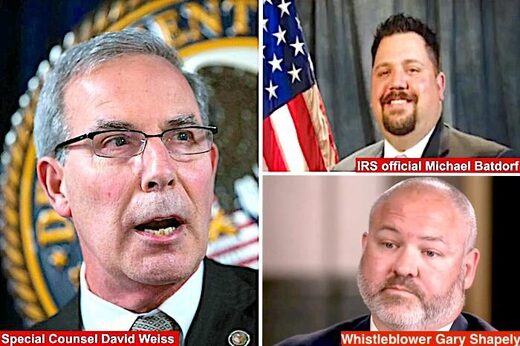 A third IRS official confirmed that
Delaware U.S. Attorney David Weiss faced roadblocks when attempting to bring charges against Hunter Biden,
contradicting denials issued Wednesday by Attorney General Merrick Garland.
IRS Director of Field Operations Michael Batdorf
told the House Ways and Means Committee in a closed-door interview on Sept. 12 that he felt "frustrated" by the refusal of the Justice Department to approve tax charges that IRS agents viewed as well-supported by evidence, according to a transcript of the interview obtained by the Washington Examiner.
He also said the
IRS removed agent Gary Shapley, a whistleblower, from the Hunter Biden case
at the direction of Weiss despite having done nothing wrong.
Batdorf's testimony was the latest piece of evidence to suggest Weiss did not enjoy the unfettered authority to pursue Hunter Biden that Garland and others claimed he had. Still, Batdorf, who was above Shapley in the IRS chain of command, stopped short of attributing the DOJ's actions to bias in favor of President Joe Biden.
In addition to the two Joe Biden-appointed U.S. attorneys
who refused
to allow Weiss to bring charges against Hunter Biden in their districts, Batdorf said the DOJ Tax Division opposed bringing charges.
Batdorf said DOJ Tax argued against charges for Hunter Biden during a June 2022 meeting with Weiss and IRS officials, who were in favor of advancing the case:
"DOJ Tax would have to authorize charges prior to David Weiss recommending an indictment or prosecution. So, I mean, my understanding is that, I mean, he can't make that decision without DOJ Tax authorization."
The IRS supervisor confirmed that
Hunter Biden's defense team was given an unusual number of chances, possibly as many as four, to meet with DOJ Tax investigators and argue why its client should not face charges.
Tensions between DOJ Tax and the IRS investigators over the strength of the case began after DOJ Tax officials started meeting with Hunter Biden's defense lawyers, Batdorf said.
Rep. Chip Roy
(R-TX) asked Garland on Wednesday about whether DOJ Tax had the ability to stop a U.S. attorney from proceeding on a tax case.
Garland, at the House Judiciary Committee hearing, responded:
"Most of the time, but not when the attorney general has granted authority to a U.S. attorney to do what he thinks is best."
But Weiss did not appear to have that authority at the time.
Batdorf said he sensed frustration on the team that Weiss had found roadblocks on multiple paths to prosecuting Hunter Biden. He said:
"I was frustrated. [Weiss] was probably a little frustrated ... because he now had to make some decisions on what he was going to do."
Then, in the fall of last year, the investigation seemed to stall.
Batdorf said the case was effectively dormant from October 2022 until May this year. During the intervening months,
investigators had little else to do except wait for Weiss to make a decision
about whether to move the case forward or end it. Weiss did not decide to proceed until Shapley had already begun the process of testifying to Congress about the investigation.
"David Weiss made his decision to go forward in May. I'm not sure what drove that decision."
House Republicans have questioned whether it was the decision by Shapley and anothe
r IRS investigator, Joseph Ziegler,
to share their concerns with Congress.
Batdorf said Weiss effectively asked for Shapley's removal from the case in December 2022 after reviewing emails and memos in which Shapley had documented what he claimed was evidence of preferential treatment toward the Biden family. Weiss informed Batdorf and another IRS supervisor that he would no longer be responding to any of Shapley's emails or calls.
The decision to remove Shapley's team was made because, Batdorf said, the IRS supervisors feared Weiss would not move forward with a prosecution unless the IRS investigative team was replaced.
But because "no more investigative actions" remained after an Oct. 7, 2022, team meeting at which Weiss revealed his difficulties in bringing charges against Hunter Biden in a jurisdiction outside Delaware,
Batdorf did not inform Shapley he was being pulled from the case until May
of this year, when Weiss finally arrived at the decision to proceed, Batdorf said.
Batdorf also appeared to confirm that
Lesley Wolf, the main prosecutor working on the investigation under Weiss,
was removed from the case in May or June of this year. Hunter Biden's legal team had worked closely with her in drafting the language of a now-withdrawn plea bargain offered to Hunter Biden until she seemingly dropped out of conversations, the
New York Times
reported
in August.
Shapley had identified her as a constant obstacle to investigative moves the IRS team wanted to take, such as witness interviews or search warrants.