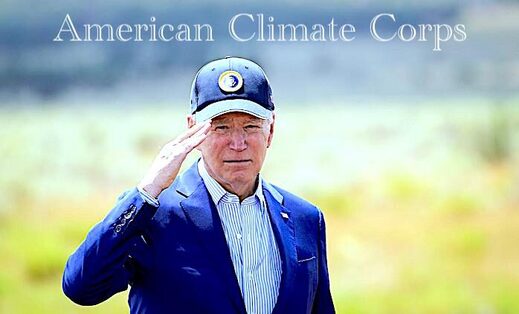 The Biden administration announced on Wednesday the launch of an American Climate Corps to train thousands of young workers to pursue careers fighting climate change, a pared-back version of the program Democrats first proposed in sweeping climate legislation.
The New Deal-era program, which is expected to tap at least $40 million to fund the initiative, will aim to hire and train a new generation of the workforce focused on clean energy and a climate-resilient economy through projects such as conserving and restoring lands and waters while deploying clean energy. But the new program is a sliver of what was initially proposed in
President Joe Biden's 2021 American Jobs Plan,
which would have invested
$10 billion for a 300,000 workforce but failed to become law.
The move comes amid
revived pressure from Democrats, who just days earlier called for the White House to create the program through executive order
after it was left out of the Inflation Reduction Act. Led by climate hawks
Sen. Ed Markey (D-MA) and Rep. Alexandria Ocasio-Cortez (D-NY),
they argued the program was necessary to work on key conservation and climate priorities.
According to a fact sheet from the White House, the
Climate Corps will have a focus on equity and environmental justice, prioritizing disadvantaged communities that have been overburdened by pollution and the adverse effects of climate change.
Along with an approved Department of Labor program that would seek to create
apprenticeship programs
with green initiatives, the
Energy Department will provide $10 million in grants to create skills training programs
for jobs necessitating certification to build energy-efficient technologies.
A five-year $15 million agreement between AmeriCorps and the U.S. Forest Service would launch a Forest Corps
, a program that would engage adults in wildfire prevention and restoration, along with other projects. The Department of the Interior would also invest
$15 million to expand the Indian Youth Service Corps
— a program that partners tribes and land organizations with the Interior Department to establish conservation crews and projects serving underserved communities.
In conjunction with the White House's Climate Corps, five states — Arizona, Utah, Minnesota, North Carolina, and Maryland — announced they are launching their own
state climate corps,
which will work in collaboration with the federal program. This totals 10 states that have launched programs.