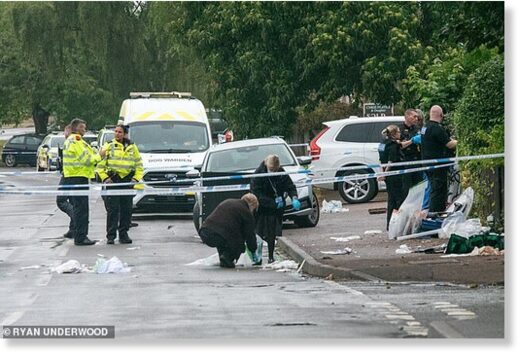 A man has died after being savagely mauled by two 'dangerously out-of-control' dogs in outside a nearby primary school.
The horror attack took place in the village of Stonnall, near Walsall, Staffordshire, yesterday afternoon as children were leaving St Peter's Primary Academy.
An air ambulance, paramedics and officers, including armed police, were called to Main Street shortly before 3.15pm on Thursday.
St Peter's was placed into lockdown 'for safety reasons', with officers stopping pupils from leaving while they dealt with the incident.
Courageous Good Samaritans tried to help the man as he was savaged by the two animals, managing to contain one of the hounds, with the second dragged to its owner's flat where it was restrained.
The victim was flown to hospital by air ambulance with catastrophic injuries. Authorities have today confirmed that despite the best efforts of medics, the man has died.
A spokeswoman for West Midlands Ambulance Service told MailOnline: 'Upon arrival we found a man who had sustained multiple life-threatening injuries and was in a critical condition.
'Ambulance staff administered advanced life support and advanced trauma care to him at the scene.
'Treatment continued en route to Queen Elizabeth Hospital where he was conveyed by land ambulance for further treatment. Unfortunately, after arrival at hospital, despite the best efforts it became clear that nothing more could be done to save him he was confirmed deceased.'
A 30-year-old man from Lichfield has been arrested on suspicion of having dogs dangerously out of control, police said.
Police are still trying to establish the breed of the dogs involved in the fatal attack.
The carnage sent shockwaves across the quiet village.
Reacting to the news of the man's death, local parish councillor Phil Whitehouse told MailOnline: 'People just can't believe what has happened in a village like Stonnall. Everyone is in state of shock and sadness.'