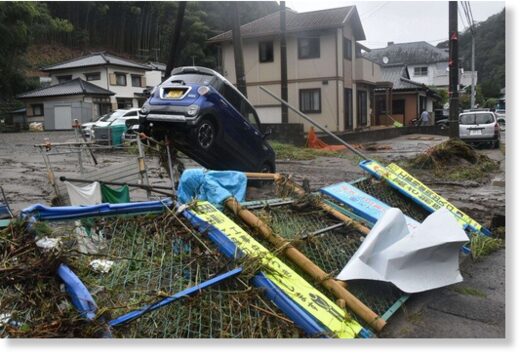 Two people have been confirmed dead in the wake of heavy rain from Typhoon Yun-yeung, which weakened into a tropical depression on the evening of Sept. 8, while 77 buildings were flooded above or below floor level in Chiba, Ibaraki and Fukushima prefectures, where linear precipitation zones were observed, Japan's Fire and Disaster Management Agency reported.
At around 6:15 a.m. on Sept. 9, a man apparently aged in his 70s or 80s was found collapsed in a ditch in the Fukushima Prefecture city of Iwaki, and was showing no vital signs. He was later confirmed dead. According to the Iwaki Fire Department and other sources, a woman in her 70s also suffered light injuries when evacuating from her home. The Iwaki Municipal Government reported that one structure was totally destroyed by a landslide, while many cases of flooding were also confirmed.
In the Chiba Prefecture town of Otaki, Satoshi Kamiyama, a 49-year-old police worker at a facility under the jurisdiction of the National Police Agency's Kanto Regional Police Bureau, was found lying unconscious at around 2:35 p.m. on Sept. 8, and was later confirmed dead in the hospital. According to Katsuura Police Station, the worker had gone out with a colleague to check on typhoon damage at a police facility when he apparently fell from the rooftop, at a height of about 5 meters.
Meanwhile in Ibaraki Prefecture, 49 homes had been confirmed flooded below or above floor level as of 8 a.m. on Sept. 9.
Railway services were also affected, with disruptions continuing on Sept. 9. According to East Japan Railway Co. (JR East), operations on the Joban Line between Katsuta Station in Ibaraki Prefecture and Yamashita Station in Miyagi Prefecture were suspended from the first scheduled departures of the day, and the section was expected to remain suspended until at least the evening.
In Chiba Prefecture, operations on the Uchibo Line between Tateyama and Awa-Kamogawa stations, the Sotobo Line between Honda and Awa-Kamogawa stations and parts of the Kururi Line were suspended for the day.
(Japanese original by Riki Iwama, Fukushima Bureau, Shigeharu Asami, Kisarazu Local Bureau, and Takeshi Terada, Digital News Group)