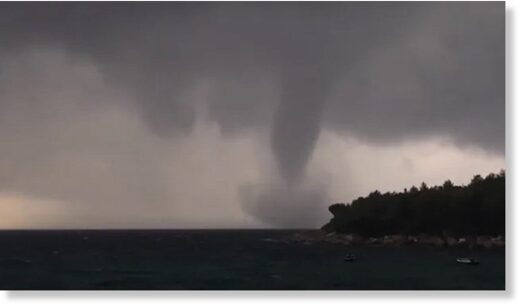 Winds, tornadoes and egg-sized hail lashed the Istrian regions of Croatia and Slovenia. This was reported by the local TV station EN1, quoted by
Meteo Balkans.
Hurricane-force winds swept across the Istrian regions of both countries, causing road flooding and a tornado was even spotted near the town of Rovinj.
The storm is expected to move west and affect the interior of the country, according to the Croatian State Hydrometeorological Institute, which has issued an orange weather code for the whole of Croatia.
"Be prepared for intense thunderstorms that can cause damage. Damage to buildings and trees, localized flooding, hurricane-force winds and hail are possible, as well as disruptions to traffic and other outdoor activities," the institute warned.
Hail the size of a hen's egg have already been reported in the Slovenian cities of Izola and Aidovščina.
Electricity has been cut in the vicinity of the cities of Portorož, Lucija and Izola, and the village of Parecag is also without electricity.
Slovenia's environmental agency Arso has issued a red code for rainfall and flood risk in southwestern Slovenia, covering the regions most affected by recent rains in early August. A yellow code has been announced for the rest of the country, according to BTA.
(Translated by Google)