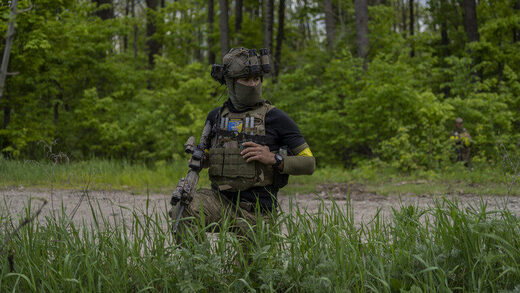 A French lawmaker has warned the nation's interior ministry about the security threat posed by right-wing militants who left to fight for Kiev, but may eventually return home.
In a written question to Interior Minister Gerald Darmanin published on the parliament's website on Tuesday, Frederic Mathieu, a member of the left-wing La France Insoumise party, sounded the alarm about the presence of French fighters in the Ukrainian international legion.
According to Mathieu,
among the 400 French people who have left for Ukraine, "there are around a hundred combatants, most of whom have been clearly identified as part of the ultra-right movement."
Some of them already had military experience before their deployment, the MP added.
The lawmaker pointed out that the militants fight in Ukrainian units such as the Revanche Battalion, founded by members of the ultra-nationalist organization Tradition and Order, which was involved in violent clashes with Ukrainian police prior to the start of the conflict in February 2022.
The French fighters in question, Mathieu said, "shamelessly display flags and tattoos featuring neo-Nazi symbols on their social media accounts." They also "justify their participation in this conflict by the fight for European civilization" and the "fight against the 'Asian hordes'" while embracing white supremacy, he stated.
His comments came after Ukrainian media shared a picture of several members of the Revanche Battalion with blurred faces and covered in tattoos associated with Nazi ideology.
Mathieu also recalled, citing French officials, that the danger of right-wing extremist terrorism has increased in recent years. He asked Darmanin whether he understood the risks associated with the return of right-wing individuals to France and whether "the necessary measures have been put in place" to prevent unfortunate incidents.
The French Interior Minister has yet to reply to the inquiry.
Russia has repeatedly said that it views foreign mercenaries fighting for Ukraine as legitimate targets, noting that Kiev uses them as "cannon fodder."
Moscow has for many years also sounded the alarm about the spread of neo-Nazi ideology in Ukraine. Ukrainian soldiers have been seen wearing SS-related insignia on numerous occasions. Russian President Vladimir Putin has named the "denazification" of the neighboring country as one of the key reasons for the military campaign.