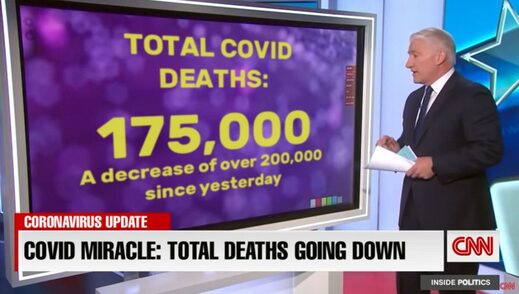 'Overly dramatic and sensational"
Viewers lost trust in CNN due to its left-wing bias and histrionic Covid reporting, according to a 2022 survey commissioned by the network.
Despite collecting bogus awards for "
fact-checking
," and "
special achievements
" for "placing a premium" on investigative reporting, the network failed to maintain the trust of the American people — to the point where its own internal survey exposed its epic shortcomings.
A partial copy of CNN's survey was
cited
by Semafor's Max Tani, who noted that
the three highest causes of mistrust were "liberal bias," the "Chris Cuomo situation," and the network's Covid coverage.
According to Tani, the report showed respondents "across the ideological spectrum" lambasting CNN's "dire" and "overly dramatic and sensational" reporting.
In utter detachment from the real world, legacy media toadies rewarded the untrustworthy network. CNN's chief medical correspondent, Dr. Sanjay Gupta, who was central to the network's Covid sensationalism and fake fact-checking, received an award for "excellence in political journalism" and was praised for "accurate information." Meanwhile, the CNN team that reported from Chinese quarantine received an award named after a reporter murdered in the Greek Civil War.
News of the report comes as network CEO Chris Licht faces significant
criticism
for his response to CNN's Covid coverage, which was aired in a
feature
by
The Atlantic
. In it, Licht — who reportedly "felt he was on a mission to restore the network's reputation for serious journalism" — admitted CNN's coverage began with a desire to help people in a confusing pandemic era
but was ultimately driven by "ratings."
He has since apologized for his remarks, but CNN's own survey results suggest his statements were based on public sentiment and statistics known to the company.
Outside sources confirm trust in CNN is declining. A Statista
survey
released a few months before Licht's hiring last year showed
only 20 percent of Americans placed "a lot" of trust in CNN — and it hasn't improved under the new CEO.
In April, YouGov
found
that only 13 percent of U.S. adults consider CNN "very trustworthy."
Samuel Boehlke is a rising senior in Mass Communication/Law and Policy at Concordia University Wisconsin and a current intern at The Federalist. He is Web Editor for CUW's The Beacon and External Affairs Editor for Quaestus Journal. Reach him at sboehlkefdrlst@gmail.com or by DMs @vaguelymayo.