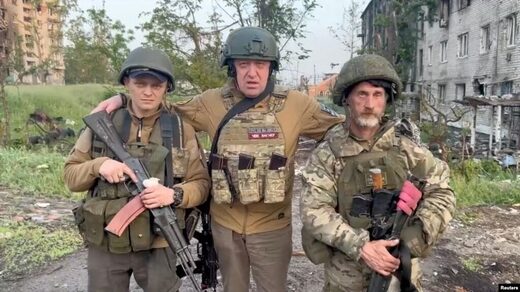 In a sign of rising tensions between Russia's Wagner mercenary group and the country's official armed forces, the private company led by Yevgeny Prigozhin has
released a video of a captured Russian officer where he "confesses" to ordering an attack on the mercenaries
.
The
video
, released by Wagner's press service on June 4, shows the apparent interrogation of a person who calls himself Colonel Roman Venevitin, the commander of the Russian Army's 72nd motorized rifle brigade. During the questioning, he says he ordered an attack on Wagner troops due to "personal enmity."
Just prior to the publishing of the video, Wagner's press service
released
a military report about a shootout between the mercenary group's fighters and regular Russian armed forces that allegedly
took place on May 17 near Ukraine's eastern city of Bakhmut
, the epicenter of heavy fighting between Russian troops -- backed by Wagner forces -- and Ukrainian armed forces for months.
The report said a Ural military truck was damaged during the attack.
In the video published by Wagner on Telegram, the man who calls himself Venevitin
says he ordered his troops to open fire at Wagner troops aboard the truck while being under influence of alcohol. The man, who
appears
to have an injured nose, apologizes to Wagner for the attack
.
The veracity of the video could not be independently verified. It was unclear whether the man identified as Venevitin was speaking freely and without duress in the video.
Russia's Defense Ministry has yet to comment on the video or the report.
The report and the video appear to reveal deep ongoing problems between Wagner and Russia's Defense Ministry. Prigozhin has several times openly criticized the ministry's efforts during the war against Ukraine that has followed Russia's full-scale invasion of its neighbor in February 2022.
Wagner troops were seen as being instrumental in Russia's assault to take Bakhmut
, and Prigozhin's stature as a major player in the war appeared to grow as his fighters took territory -- albeit with heavy losses -- regular forces seemed unable to grab.
The city now appears to be controlled by Russia, though Kyiv says the battle continues.
International military experts also have stressed that military units involved in the invasion have regularly lacked a joint command and often conflict with one another.
Prigozhin, in an
audio statement
on June 5, called on Defense Minister Sergei Shoigu and the chief of the Russia's armed forces' General Staff, Valery Gerasimov, to come to Ukraine's east and personally lead Russian units to defend positions near Berkhivka settlement.
According to Prigozhin, Ukrainian armed forces have retaken parts of Berkhivka, north of Bakhmut.
"Shoigu, Gerasimov, I call on you to come to the front line, take out your guns to lead the armed forces, to make them go forward. Go for it, you can do it! If you can't, you'll die like heroes," Prigozhin said.
Prigozhin, considered to be a close ally of Rusian President Vladimir Putin, has accused Shoigu and Gerasimov of corruption, unprofessionalism, and high treason for months.