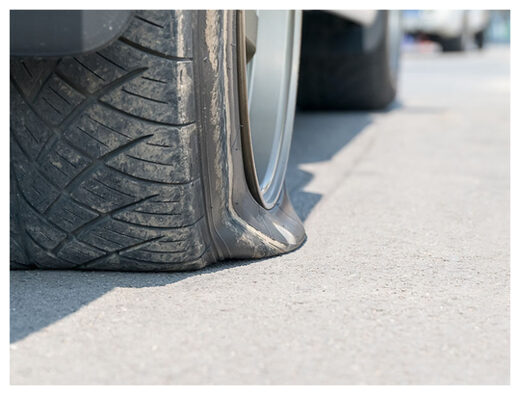 It's a cult. Believers in the climate religion can't persuade the rest of the population through polite conversation, so a few are resorting to vandalism-for-the-planet because they know more than you do about atmospheric physics, right?
After a spate last year, the call has gone out for activists to sneak around again after dark, being the deceptive cowards they are, and let down the tyres of SUVs to punish owners for not joining their pagan religion. Judging by their
twitter thread
, it doesn't seem like a mass movement.
Philosophically, it's just bully-badger-and-harass people for the climate kind of thing. According to
"Tyre Extinguishers
" you too can change the weather 100 years from now by dressing like a bank robber, and prancing around in the dark making other people's lives more difficult. "Bravo" eh?
The same evangelists don't seem to be concerned with even heavier EV's made with child labor, the solar panels made by slaves, or the landfill toxic waste, destruction of forest, birds and bats by renewables. It's just a tribal performance art to impress their friends and fill the spiritual vacuum in their lives.
When will the grown-ups in the environmental movement condemn vandalism? It's time the Greens were asked if they support this.
Radical climate activists pushing to 'inconvenience SUV owners' by deflating 4×4 tyres in major cities

By Alex Blair, News.com

A radical movement purporting to save the world from climate change has declared war on SUV owners, encouraging the public to actively sabotage cars in the street.

The Tyre Extinguishers is a guarded organisation that has built a global following in recent months, attracting what some have described as "extremist" activists who want to rid the roads of these "massive and unnecessary" vehicles.

Presumably, if this becomes common (which seems unlikely. How many people really get a thrill from this?) then SUV owners will respond by buying tyre valve locking caps, security cameras, and consuming more resources buying air compressors.
The group's manifesto says activists should "inconvenience and expense SUV owners" by deflating their tyres wherever possible.

"SUVs are bigger and heavier than other cars, they are more polluting and use more fuel," the group's website reads.

"This makes them a disaster for our climate. International Energy Agency researchers were shocked in 2019 to find that SUVs are the second-largest cause of the global rise in carbon dioxide emissions over the past decade - more than shipping, aviation, heavy industry and even trucks."
It's a great way to make the average punter resent all forms of climate impost and see it for the fake religion it is.
Wealthy SUV owners have lockable garages, so this will hurt the workers more than the rich. It will also hurt EV owners when daft minions can't tell the difference between a gas powered and battery fueled car (the group have a page that looks like it was written by a 14 year old, to help activists
figure out what an SUV is
). But the truth is there are only a sporadic few incidents of this around the world in the last month, 30 cars in Paris, 30 in Brussels, 38 in southern France, 18 in one German town and 46 in Czechia. There were some incidents in the UK and France in April. Most of the news stories on it date from last year.
What will they say when workers who own SUV's miss medical appointments, can't pick up children, get to hospitals, or care for aged or disabled people? How will they feel when they get charged with trespass? One Doctor has had her tyres slashed twice and leaves a note in her car saying she needs the car for
on-call medical work and home visits.
Few heroes in history saved the world with vandalism.
They are also
painting cars
— like true vandals
This surely would be illegal if it was done with permanent paint (which apparently it was, and
would cost £200 to have it removed
). "Avon and Somerset Police said the incidents were being treated as criminal damage."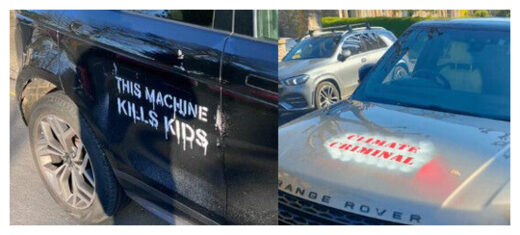 Here's the
narcissistic, childish note
they want to leave on your car.