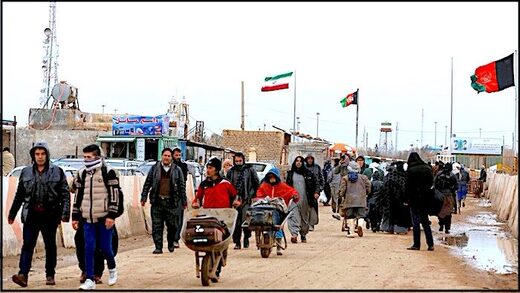 Taliban border guards used weapons left behind by the US occupation army during their attack on the Iranian side...
Iranian Interior Minister
Ahmad Vahidi
said on 29 May that "there is no problem at the moment" on the border with Afghanistan and that the crossing is open for traffic after negotiations were held with Taliban leaders.
Commenting on Saturday's
deadly clashes
between Iranian border guards and Taliban fighters, Vahidi said,
"There was a border shooting on the border by Afghan border guards, and naturally, our response was given appropriately."
Two Iranian border guards and one Taliban fighter were killed during the exchange of gunfire on 27 May.
On Sunday night, the
Commander of the Iranian Army's Ground Force, Brigadier General Kioumars Heidari,
warned that the Islamic Republic would change its approach if Afghanistan failed to respect international regulations and the principles of good neighborliness.
"If the neighboring state respects international border regulations, we will observe [the principles of] good neighborliness in return and display mutual respect," Heidari said during a visit to the southeastern province of Sistan and Baluchestan.
However, he stressed that Tehran would pursue a different approach if the Taliban continued with its provocations.
Iran's deputy head of the national police force,
Qassem Rezaei, who also traveled to Sistan and Baluchestan on Sunday, said there was evidence that the Taliban initiated the clashes.
"As a military and security body, we have plans to defend and protect borders so that the Iranian people will live in full security," Rezaei stated.
Nonetheless, Afghan news outlet
TOLO News
has
quoted residents of Nimroz province claiming that the Iranian troops opened fire first.
As tensions on the border calmed on Sunday, the acting Prime Minister of Afghanistan,
Mawlawi Abdul Kabir
, said Kabul wants "good relations based on good intentions" with all its neighbors.
Videos posted to social media by the Taliban offered an up-close view of Saturday's skirmish, showing the
Islamist militants using a US army vehicle armed with an M240 machine gun.
After the disastrous pullout from Afghanistan following a 20-year occupation, the US army left behind at least
$7.12 billion
in military equipment, including aircraft, vehicles, weapons, ammunition, and communications hardware.
In September of 2021, the
Taliban
discovered
two large weapon stockpiles left hidden by US forces
in the towns of Mazer-e-Sharif and Herat.
The caches contained hundreds of thousands of bullets, weapons, missiles, and spare helicopter parts and were allegedly left in the country as part of a contingency plan in case US troops were redeployed to the country, according to a
report
by British media.