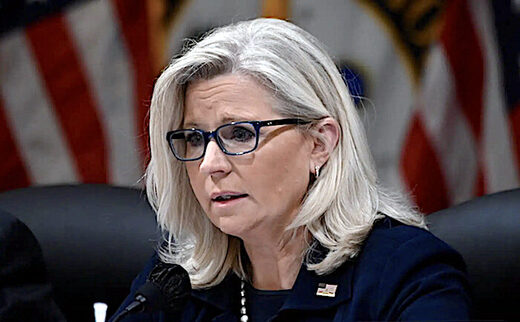 Stefan Passantino, a lawyer from Washington, D.C., who provided representation for ex-White House staffer Cassidy Hutchinson during her testimony before the Jan. 6 House Select Committee, has filed a lawsuit against the committee, accusing it of damaging his professional reputation and causing harm to his career.
Passantino submitted a Federal Tort Claims Act Complaint amounting to $67 million against the congressional panel,
alleging that the committee deliberately created and propagated a false narrative about him, intentionally interfered with his attorney-client relationship, and neglected his civil rights to advance a political agenda targeting former President Donald Trump.
Passantino's attorney, Jesse Binnall, said in a statement:
"Liz Cheney and her collaborators on the January 6th Committee decided to peddle a false tale about Mr. Passantino and his relationship with his client without any regard for the truth or whether they were destroying the reputation of a good man; a reputation built over decades."
Per the complaint, the committee is accused of engaging in unauthorized communications with Hutchinson, without the knowledge or consent of Passantino, thus violating the sanctity of the attorney-client relationship. The complaint further alleges
that these communications contributed to the creation of a "false narrative" that was then propagated to news outlets
by a lawmaker or congressional staff member acting "outside of the scope of their legislative function."
Hutchinson, who worked as an assistant to Mark Meadows
during his tenure as Trump's last White House chief of staff,
emerged as the central witness for the Jan. 6 Committee.
During her testimony, she alleged that Trump had attempted to commandeer the presidential limousine to drive himself to the election protests.
However,
several of her claims, which were based on third-party discussions, were quickly discredited
when her sources publicly denied her account of the events, the news outlet reported further.
Shortly before Hutchinson provided her explosive testimony, she made a switch in legal representation. Prior to her appearance at the televised hearing, Passantino, a former deputy counsel for the White House, had been advising her throughout the process,
which involved three private depositions
before the committee.
According to the complaint, after Hutchinson's second deposition,
she began collaborating with members of the Jan. 6 Committee without Passantino's awareness.
According to Newsmax the complaint says:
"The Committee, through a backchannel directly to Mr. Passantino's client, in total disregard for the attorney-client relationship, convinced Mr. Passantino's client to sit for additional interviews and give incredible testimony that could then be peddled by national news media friendly to the Committee to damage Mr. Passantino."
That passage appears to be citing articles such as one published by CNN in December under the headline:
Cassidy Hutchinson told the January 6 committee she felt pressure from Trump allies not to talk and instead risk 'contempt.'
According to the article, which refers to transcripts of Hutchinson's subsequent discussion with the committee in September,
Hutchinson believed that she had no choice but to enlist Passantino's services
as her attorney because she could not afford the rates quoted by other legal professionals.
Passantino claims that he was not told of the September meeting that took place between the committee and Hutchinson.
Hutchinson was first introduced to Passantino when she reached out to
Trump's Save America PAC for assistance in securing legal representation after receiving her initial subpoena from the House.
Following his tenure as a White House deputy counsel, Passantino resumed private practice and went on to represent several witnesses before the Jan. 6 committee, including Hutchinson.
The complaint notes further:
"Ms. Hutchinson never told Passantino that she wanted a 'non-Trump' lawyer or that she had any sensitivity about Mr. Passantino's previous work in the Trump White House. She did not express reservations to Mr. Passantino about him being paid by a Trump-related PAC; instead, she had solicited that funding herself."
The complaint further highlights that the
Jan. 6 committee did not reach out to Passantino for an interview or to seek his response to the accusations leveled against him.
The complaint alleges that the negative media coverage has severely damaged Passantino's legal career, which spans three decades, and forced him to take a leave of absence.
"This is all a result of the Committee's unjustifiable, outrageous, and malicious leaks of private information and interference in Mr. Passantino's representation of his clients."
Newsmax noted if Congress doesn't respond within six months, Passantino can file his lawsuit in a federal court.