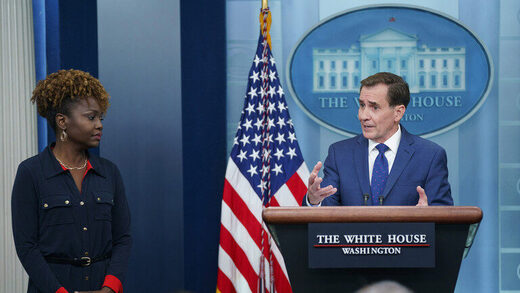 Washington has again dismissed visual proof of US-supplied equipment used in this week's attack by Ukrainian militants in Russia's Belgorod Region as unconfirmed "reports" but admitted the images require further investigation. President Joe Biden's administration, however, has apparently acknowledged concern that Kiev might have broken its alleged pledge not to use American weaponry outside its own territory.
White House National Security Council spokesman John Kirby spoke of "frustration" over the attack during a press briefing on Wednesday, US media outlet Politico
reported
. He noted that the administration is "looking into" the footage indicating that US-supplied equipment "could have been involved" in a deadly raid in the Belgorod district of Grayvoron.
"
We've been pretty darn clear that we don't support the use of US-made equipment for attacks inside Russia
," Kirby told reporters. "We've been clear about that with the Ukrainians. I won't get into private discussions that we're having with them, but I think we've been nothing but consistent about our concerns in that regard."
Kirby's comments came one day after US State Department and Pentagon officials tried to cast doubt on photos and video footage clearly showing that the militants used American gear, including Humvees and MaxxPro MRAP armored fighting vehicles. State Department spokesman Matthew Miller called the evidence "fuzzy pictures" and told reporters the US administration is "skeptical of their veracity."
The high-quality images, including footage released by the Russian Defense Ministry, showed multiple damaged and abandoned US vehicles.
The military said dozens of saboteurs were killed in a counterterrorism operation
, while some were pushed back into the territory of Ukraine.
Kiev has attempted to disavow the raid
by claiming it was carried out by the so-called 'Freedom of Russia Legion' and 'Russian Volunteer Corps (RDK)' neo-Nazi units.
The Kremlin responded that it was a distinction without a difference, as the militants fought in the Ukrainian military using equipment provided by the West
. The Pentagon also said the US hadn't approved any transfers of equipment to paramilitary organizations outside the Ukrainian armed forces.
US President Joe Biden has tried to lead an international sanctions campaign against Russia and provide billions of dollars' worth of military aid to Ukraine without triggering a direct war with Russia. Publicly, US officials always claimed that the ground rules prohibiting the use of US-made equipment outside Ukrainian territory are part of that effort, seeking to distance Washington from any incursions on Russian soil.
During a press briefing on Saturday, White House National Security Advisor Jake Sullivan said Washington is "going to proceed in a way that avoids World War III - that precept has remained intact."
However, Russian officials consider the US to be a direct party to the Ukraine conflict as it provides increasingly advanced weaponry to Kiev. Earlier this month, Kremlin spokesman
Dmitry Peskov accused Washington of facilitating Kiev's terrorist attacks in Russia, including a Moscow drone strike alleged to be a Ukrainian attempt to assassinate Russian President Vladimir Putin.