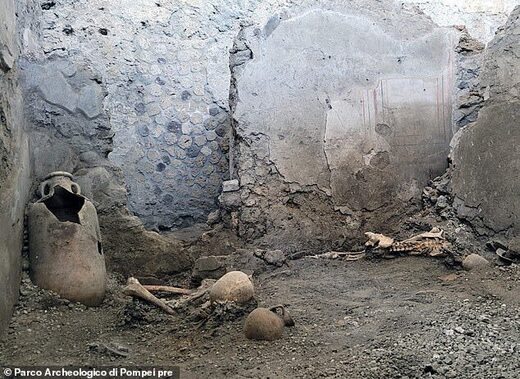 The remains of two people believed to have been killed by an earthquake that accompanied the AD79 eruption of Mount Vesuvius have been found in the ruins of the ancient Roman city of Pompeii.
The skeletons,
thought to belong to two men in their mid-50s
, were found during excavations at the Insula dei Casti Amanti, or Insula of the Chaste Lovers,
an area of Pompeii made up of a cluster of homes and a bakery
.
The well-preserved remains
were found beneath a collapsed wall. Bone fractures indicate that the men probably died as a result of multiple injuries sustained as the building they sought refuge in caved in because of an earthquake that struck during the early stage of the volcanic eruption
.
One of the victims is thought to have raised his arm in an attempt to protect himself from the falling wall.
It is believed that the wall collapsed before the arrival of the violent pyroclastic currents that buried the city.
Gabriel Zuchtriegel, the director of Pompeii archaeological park, said the discovery brought home even further "the hell" of the human dimension of the tragedy.
"As some of the archaeologists said, the discovery is very grounding as they are effectively digging up human beings, which is sad," he said. "Human mortality is so fragile ... in Pompeii, the advancement of excavation techniques helps us to see more clearly the inferno that destroyed the city in two days."
Beads from a necklace and six coins - two dating back to the middle of the second century BC - were also found in the same room
as the victims.
"Pompeii is an immense archaeological laboratory that in recent years has regained vigour, astonishing the world with the continuous discoveries brought to light and manifesting Italian excellence in this field," said culture minister, Gennaro Sangiuliano.
The Pompeii ruins were discovered in the 16th century, with the first excavations beginning in 1748. More than 1,500 of the estimated 2,000 victims have been found over the centuries.
The last discovery of human remains was in 2020, when the skeletons of two men, believed to be a wealthy man and his slave, were found during excavations at a villa in the outskirts of the city. The two men, lying close together, are believed to have escaped
the initial phase of the eruption when the city was blanketed in volcanic ash and pumice
, only to then be killed by a blast that happened the following day.