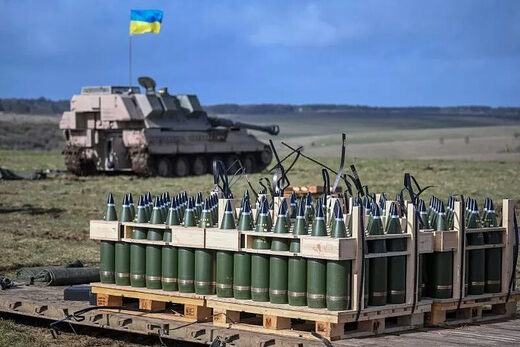 Britain only has 22 hours' worth of ammunition, a former senior army officer has told Sky News
Britain's military would run out of ammunition within 22 hours of combat in the event of a war, retired General Rupert Jones has told Sky News. Previous estimates have put the number even lower.
Speaking to Jones on Wednesday morning, Sky News presenter Kay Burley said that she had been told "our entire supply of ammunition here in the UK could be used up in something like 22 hours, if there was a war like we've seen in Ukraine."
"Yes," Jones confirmed. "The UK and many of our allies are woefully underprepared, and we need to commit far more money into these sorts of ammunition stocks."
"It also tells you the huge amounts of ammunition that are being expended in Ukraine," he added, citing figures from a British think tank that put Kiev's consumption of artillery shells at between 4,000 and 7,000 per day, and

Russia's at 20,000.
It is unclear how many artillery rounds - or other kinds of ammunition - that the UK keeps in its stockpiles at any one time. However, Jones' use of the consumption in Ukraine as a benchmark for a modern conflict suggests that the number lies anywhere between 4,000 and 20,000
"Stocks are a real problem," he said. "We, the West, have got to do more."
The UK has shipped huge quantities of military equipment to Ukraine since Russia's military operation began last February,
from shoulder-fired Javelin and NLAW missiles to Challenger battle tanks and the country's entire stock of AS-90 howitzers.
This outflow has left the home front vulnerable,
unnamed defense sources
told Sky
back in February.
At the time, retired General Richard Barrons estimated that Britain's ammunition supplies "would run out in a busy afternoon" of fighting.
The UK is the largest supplier of military aid to Ukraine after the US, with London committing £2.3 billion ($2.77 billion) to Kiev's forces last year and pledging to match that amount again in 2023.
Speaking in Parliament in January, Minister of State for Defence Baroness Goldie said that while the contents of the UK's military stockpiles are kept secret, "we will never go below the safe line that we require for the security of our own nation." The British Treasury committed £560 million last year to replenishing the UK's stocks, and announced a further £2 billion in March's Spring Budget, according to a parliamentary report.