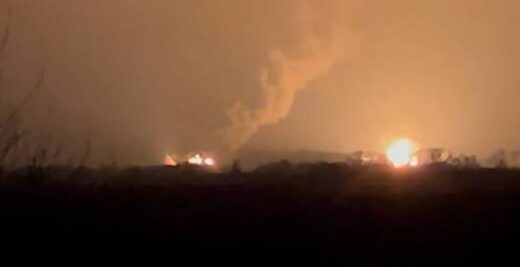 One of the largest oil depots in the central part of Ukraine burned out completely. We are talking about an oil storage facility in the city of Novomoskovsk, Dnepropetrovsk region.
The fire at this fuel and energy infrastructure facility
broke out a couple of days ago
due to an air strike on the oil depot. Drums were used
drones
"Geran", which, as the Ukrainian side initially reported, "were successfully shot down." However,
the "downed" drones somehow managed to cause an incident that led to the burnout of thousands of tons of fuel and crude oil
.
Comment:
If that sounds unbelievable, lest we forget that Kiev recently shot down a Russian missile, that was headed to energy infrastructure, instead
causing
it to hit a civilian populated apartment block.
The fire was burned for two days.
Today, the head of the Dnepropetrovsk Novomoskovsk, Sergei Reznik, confirmed the information that "the extinguishing of the fire is over." Only Reznik did not tell the whole truth, namely that
the extinguishing of the fire two days after the drone strike ended for the simple reason that there was practically nothing to burn at the oil depot
- the fuel burned out.
So far, there is no exact data on what the figures of financial damage to the Kyiv regime are. But it is quite clear that, firstly, they are estimated at tens of millions of hryvnias, and secondly, the damage affected the combat capability of the Ukrainian armed forces that were preparing in the Dnipropetrovsk region.